It's time to register for MIT Splash! Splash is a weekend-long learning extravaganza for high school students in grades 9-12, featuring over 200 classes taught by MIT students and community members on diverse and fun topics, including STEM and more!
Register now! This year's program runs on November 18-19, 2023.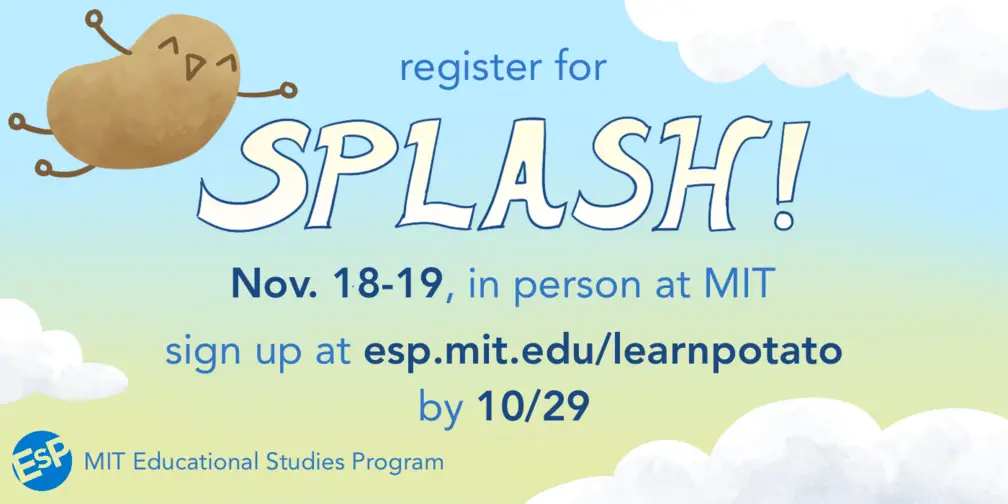 Here's a sample of this year's courses:
What's in a Nuclear Reactor?
Introduction to the Achaemenid Empire
Free Space Laser Communications
How do tiny ninja squids glow in the dark?
Putting the neural in neural networks
Cryptography: the art of keeping secrets
Stars, Sundials, and Shadows
Making Cream Puffs!
Registration Details
Register online by 11:59PM EDT on Sunday, October 29, and enter your lottery preferences for the two-day program on Saturday, November 18 and Sunday, November 19
See the full course catalog
Participants: 9th-12th-grade students
Location: MIT campus (Cambridge, MA)
Cost: $50 for the entire weekend of classes (generous financial aid is available)
Questions: Contact

[email protected]
Other Splash Programs
In addition to MIT's program, there are several upcoming Splash programs at other universities in Massachusetts. Find Splash programs at colleges throughout the country here.