I recently discovered a great opportunity to learn about robotics, and I wanted to share it with parents and educators who live and work in the greater Boston area. You can schedule a free visit to your classroom or group from the iRobot team.
An engineer from iRobot, the robot company known for the Roomba (a robotic vacuum cleaner that guides itself), will come to your school, event, or group and talk about how the company designs and builds robots. They will also demo working robots, and even better, they will let you test-drive them yourself! Cool, right?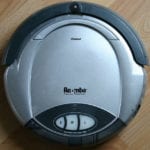 iRobot is committed to encouraging students to study and work in the STEM fields. Their goal is to get kids excited about the robotics industry and inspire the next generation of scientists and engineers. The company has designed a formal outreach program whereby engineers take time to go out into the community to discuss robotics and demonstrate real-world applications for students, teachers, parents, and educational groups.
I got to see iRobot's presentation when they came to my local library. Amy DeDeo, an engineer on the product management team, gave a presentation about how ideas are developed at iRobot and the level of engineering effort and discipline that go into designing and manufacturing robots. She was very personable and talked about her background too, including what she liked to do as a kid and what she studied in college. She earned a BS in Mechanical Engineering and an MS in Manufacturing Engineering from Worcester Polytechnic Institute. For anyone considering an engineering degree, she was a great role model.
She demonstrated the Roomba vacuum cleaner robot and clearly explained how it uses optical and acoustic sensors to clean dirt and debris on floors and carpets. She also demonstrated FirstLook, a small, rugged, throwable robot. Yes, you can throw it! It has "eyes" and "ears" that are used to make quick assessments in potentially dangerous situations or obstructed areas such as collapsed tunnels or building.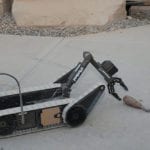 We had a crowd of young children and adults — the kids were lively and were full of inquisitive questions. I could tell Amy enjoyed talking with the crowd, and patiently answered all of our questions. She happily let the kids test-drive the throwable robot too– a definite crowd pleaser.
Want to schedule a visit with iRobot or tour their headquarters? It's really easy. Fill out their Tour Request Form and a person from iRobot should contact you in 7 business days.
In addition to classroom visits and tours, iRobot also provides mentoring, career introduction and internships, all geared toward connecting students to the opportunities provided by a STEM education and occupation. You can learn more and inquire directly by visiting the STEM page on their website.
For parents, teachers, and organizations like the Girl Scouts, the Boy Scouts, PTO and PTA, iRobot's presentation is inspiring for all ages and will give you a glimpse into the future of robotics. For those of you who don't live in the Boston area, you too can experience a similar presentation by watching the "iRobot Cool Stuff Museum Tour" video on YouTube. There you will see their earliest robots, the throwable robots, and hear from their CEO, Colin Angle, about how you can become a next-generation robotics scientist and engineer.
Image Sources: Roomba by Sandra Fauconnier and iRobot PackBot by The U.S. Army