Whether your child habitually takes things apart to see how they work (even if they don't successfully put them back together!), or you have a child who is put off by math and science, hands-on, project-based after-school STEM programs may be just the thing for them. In this article, I'll unpack those components—"hands-on STEM" + "after-school enrichment programs"—and explain why learning in a hands-on non-academic environment is a great way to introduce a child to STEM subjects or give them more in-depth exploration time, whatever their level of skill or interest.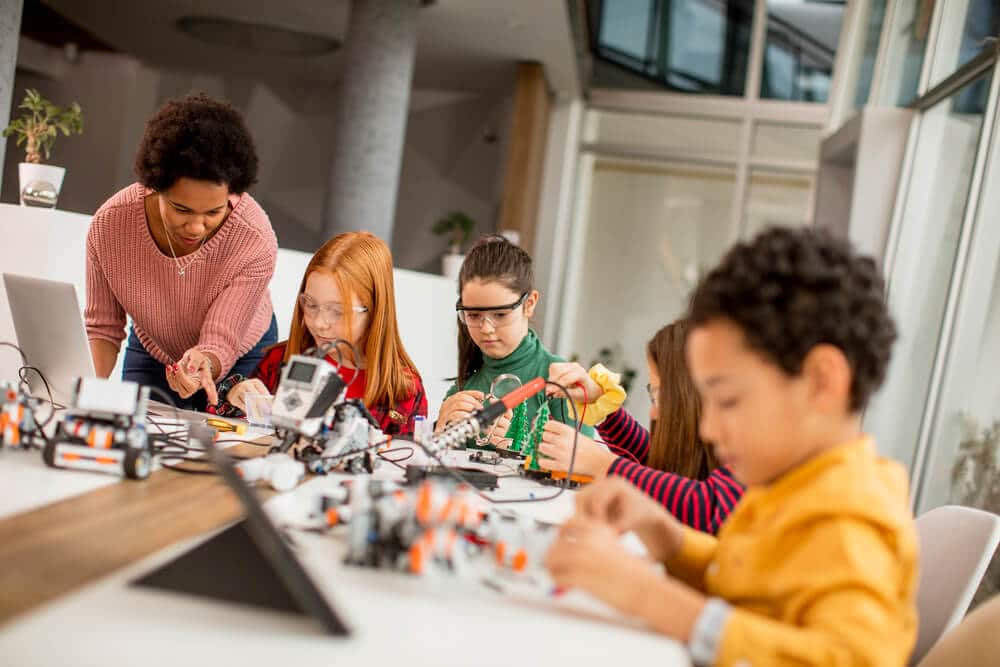 After-school STEM enrichment programs 
Most schools run well-established on-site after-school enrichment programs, and change up the class offerings as different subjects become more or less popular. For example, coding, robotics, and engineering have made appearances in more after-school programs as they've become more popular among kids, even very young kids.
These programs vary by school but are often sponsored by the Parent Teacher Association (PTA), Parent Teacher Organization (PTO), or similar organizations. They give kids an opportunity to experience classes in all kinds of areas such as art, fitness, language, music, nature, and yes, technology! STEM classes are often taught by school teachers, area residents, and locally-owned businesses. There is typically a reasonable charge for these classes, and they are usually offered one day a week on the school grounds. There are no grades and the focus is usually on having fun and unwinding after the school day.
Hands-on learning 
Increasingly, research is showing that hands-on, experiential learning benefits all children, particularly in STEM subjects, no matter what their learning style. Parents know that every child's learning style is different. Not all children learn best by listening to a lecture or reading the information in a book, online, or on a whiteboard. Many students need to work on a tangible activity or project in order to truly understand new material. Students who respond well to this type of approach are known as kinesthetic or tactile learners. Kinesthetic students learn by doing and use their hands to explore and experiment with materials in order to learn.
No matter what your child's learning style is, though, they likely can benefit from doing hands-on projects. And while hands-on learning is an exciting, engaging learning technique for all children, hands-on learning experiences can be especially beneficial to children who have had a less-than-positive association with STEM, building their confidence and showing them a different side of STEM.
Project-based learning  
Project-based learning is what it sounds like: an introduction to concepts and skills through a real-world problem or project that is relatable and often requires multiple steps, team collaboration, exploration, and discussion, culminating in a proposed solution. Project-based learning activities are often combined with hands-on learning and use a multidisciplinary approach to teach science and math and introduce technology to students. In these activities, students design, create, build, and test things.
A project-based approach to learning science and math 
gives your child a positive experience with STEM
introduces your child to new skills or builds on ones they already have
shows your child that they can do well in math and science, boosting their confidence
demonstrates how math and science can be used in real-world scenarios
Putting it all together  
The combination of hands-on, project-based STEM classes with the after-school enrichment program format gives your child a chance to relax into an enjoyable, low-stress experience of STEM subjects, and have fun taking things apart, putting things together, creating new things, and solving real-world problems, all in a supervised, structured setting. Some examples of programs for elementary-age children are LEGO engineering, Mad Science, and Scratch coding. Classes in middle school are generally more complex, for example, the engineering challenge my daughter participated in, culminated in a team competition at MIT.
As you plan your child's activities, see if your school offers after-school STEM programs. And if they don't, talk with your school's enrichment program coordinator and make some suggestions. I am sure they would be happy to consider STEM classes for future sessions. A hands-on STEM experience like building a robot, coding an app, or designing and creating a mini-trebuchet may be the perfect after-school activity for your child.