Are you looking for a one-of-a-kind holiday gift for your child?  One they will enjoy and one that will fuel their interest and build STEM skills at the same time?
You can give the gift of your time and support your child's education by starting a FIRST® LEGO® League team. If your child is a fan of LEGOs and enjoys building things, constructing robotics, and all things engineering, this is a program they may enjoy.
I have written about the innovative FIRST programs before and how their high school program benefits students by encouraging them to explore science and engineering and learn by designing, building, and programming robots for competition.
Today, I want to highlight FIRST programs for grades K-4 (FIRST LEGO League Junior) and grades 4-8 (FIRST LEGO League). I will give you an overview of what you can expect when you start your own program, what your child will gain from the experience and insight from a parent who started a team.
These two programs (for kids ages 6-14) are part of an alliance between FIRST and the LEGO Group. FIRST is regarded as the leading, not-for-profit, STEM engagement program for kids worldwide with a major focus on robotics, innovation, and entrepreneurship. The FIRST programs emphasize hands-on learning and promote core values that include teamwork, kids doing their own work (with the assistance of coaches and mentors), and what FIRST calls "Gracious Professionalism®"- being helpful, kind, and showing respect when they work, play, and share.
Each year, these programs present children with a new and exciting challenge, helping them explore a real-world theme by learning about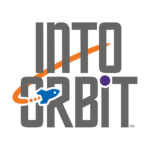 simple machines and building a model made of LEGO elements with a motorized part.  For example, in a recent challenge: INTO ORBIT teams explored how to solve the physical and social problems associated with long-duration space flight, and propose solutions for any issues they identify.
These programs rely on the support of coaches, mentors, and volunteers, and often parents and members of the local community. It's easy to start a program – you can run it out of your home, through a homeschool network, and even at your local library. It is important to note that no experience is required to be a coach or volunteer, and you are never alone. FIRST provides a tremendous amount of support and resources along the way.
About FIRST LEGO League Junior (FLL Jr.): Grades K-4
Each season, teams are sent on a journey of discovery to learn all they can about the topic, then present their findings in the form of a team poster and a LEGO model with motorized parts.
Starting a team: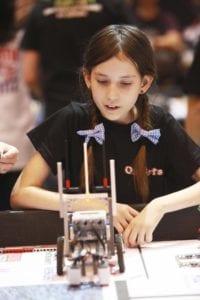 Each team must have at least 2 adult coaches.
Coaches recruit 2 to 6 interested team members, ages 6 to 9.
Once you have your members, it's time to register your team.
The annual fees for team registration, plus a kit of parts and event participation cost approximately $300 per team. Additional costs for extra LEGO parts, travel, food, team shirts and other optional items will vary. (Fundraising, grants, and sponsorships are also available.) Veteran teams will pay less since the robot set can be used year after year.
Coaches have access to a wide variety of curriculum resources and local support.
Each August, the new challenge is released; most teams spend about eight weeks preparing their projects.
Teams complete their season by presenting a Show Me poster and LEGO model at a local expo.
About FIRST LEGO League (FLL): Grades 4-8
Each season, teams will participate in a Challenge and will have the opportunity to build and program an autonomous (no remote control) LEGO MINDSTORMS® robot to score points by performing mission tasks. These missions will be inspired by the Challenge theme.  Missions require the robot to navigate, capture, transport, or deliver objects on a printed mat (the Field).  The robot has 2 ½ minutes to complete as many missions as possible. Teams have the opportunity to compete in tournaments.
Starting a team:
Each team must have at least 2 adult coaches.
As a coach or adult volunteer, you should be meeting with your team once per week during the build and competition season (September – April).
You will need a meeting space that has room to set up the 4×8 playing field, and a computer with internet access.
You should recruit up to 10 team members, ages 9 to 14. (Ages vary by country for FIRST LEGO League. The ages referenced here apply to the U.S./Canada.)
Register your team (May- October) and order your materials.
New teams can expect to pay approximately $800 for team registration, a robot kit of parts, and field setup kit. Additional costs for event participation, travel, food, team shirts, and other optional items will vary. Veteran teams will pay less since the robot set can be used year after year. (Fundraising, grants, and sponsorships are also available.)
Coaches have access to a wide variety of curriculum resources and local support.
The project and build season run from September to early February, when tournament season begins. Tournaments help determine which teams will earn coveted spots at FIRST LEGO League World Festival in Houston, TX and Detroit, MI at the end of April. There are also many off-season events in which teams can participate, strategize, hone their skills, learn new technology, and meet other teams.
A Parent's Perspective on Starting and Coaching a Team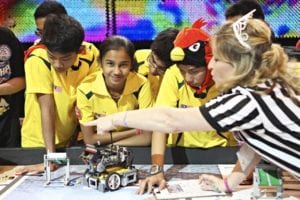 I had the opportunity to talk with a parent coach, Dan Hughes, who started a FIRST LEGO League called the Kings of Konstruction. It all began when he and son went to see a FIRST LEGO League NH state competition and his son (7 years old at the time) fell in love with the idea and wanted to participate.
I asked Dan what his son and the other team members have gained from being part of a FIRST team and he said, "The kids have learned a lot about teamwork, public speaking, and communication. In addition, they have gained a strong problem-solving ability." He also remarked that "they have had a lot of fun."
Dan also shared that the experience has been "life-changing."  "We have had opportunities to do many wonderful things. Our team was featured on CBS Sunday Morning, with a feature on my son Aidan Hughes. We have met presidential candidates, and business leaders like Steve Case, founder of AOL."
I asked Dan about the commitment it takes to start and run a team and he remarked that the nice thing about the program is that the commitment level "is up to you and your team." He added, "The more time you put in the more you will get out. A good starting spot would be 4-6 hours per week for a rookie team."
Dan also shared some advice on working with a rookie team and how to set expectations. "Try to remember that your first year is an on-ramp to the program. Go into it with the goal of learning as much as you can, have fun, and attend a regional competition no matter what." He added, "If you approach your first year as a learning year, you will have great success and enjoyment for many years to come."
Final Thoughts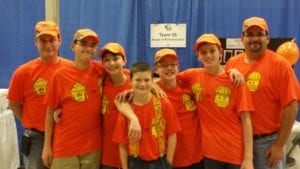 Creating a FIRST LEGO League for your child and their friends is sure to be a unique and memorable gift and one that they will be grateful for. It can also be a rewarding experience for you.  Dan Hughes' positive experience as the coach of his son's team is a great example.
If you would like to explore these programs in more detail, there is a wealth of information available on the FIRST websites: FIRST LEGO League Jr. and FIRST LEGO League.  You can find teams and events in your local area on each site plus request information if you want to learn more.
Visit the FIRST LAUNCH page to learn more about this season.
About FIRST®
Accomplished inventor Dean Kamen founded FIRST® (For Inspiration and Recognition of Science and Technology) in 1989 to inspire an appreciation of science and technology in young people. Based in Manchester, N.H., FIRST designs accessible, innovative programs to build self-confidence, knowledge, and life skills while motivating young people to pursue opportunities in science, technology, and engineering. With support from over 200 of the Fortune 500 companies and more than $80 million in college scholarships, the not-for-profit organization hosts theFIRST® Robotics Competition for students in Grades 9-12; FIRST® Tech Challenge for Grades 7-12; FIRST® LEGO® League for Grades 4-8; and FIRST® LEGO® League Jr. for Grades K-4. Gracious Professionalism® is a way of doing things that encourages high-quality work, emphasizes the value of others, and respects individuals and the community. To learn more about FIRST, go to www.firstinspires.org.