As we head into fall 2021, you now have many options to choose from when it comes to online STEM classes for your kids. Over the course of the last year, providers have learned a lot about running online programs, and what was once a niche offering has become widely available. I still love in-person programs, but online learning activities can be a great alternative if you are limited on time or don't have programs in your area.
If you're ready to find a class, you can jump right to the list!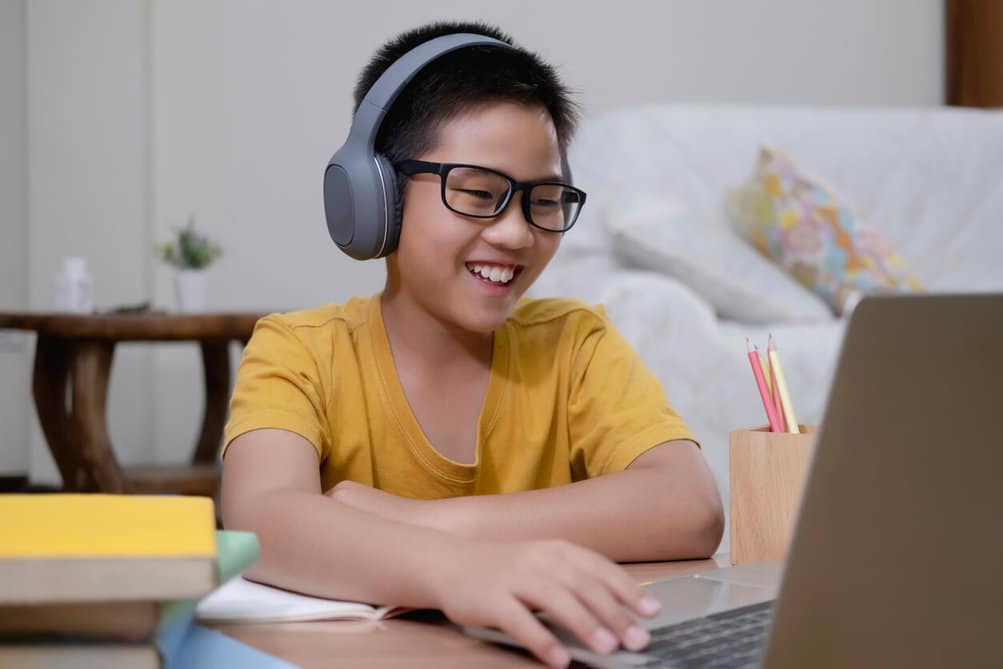 What parents think about online classes
Although many parents are anxious to get their children back into in-person classes, providers are getting plenty of positive feedback from many parents about the flexibility, convenience, and easy accessibility of their online classes. Coditum tells me that parents "love the flexibility of personalized teaching at a time that works for them," a sentiment echoed by CodeConnects: "parents and students love the option of having coding education accessible … no matter their location, skillset, or demographics."
Being online also broadens the reach of the classes, which benefits the organizations and the students alike. Ivy Camps USA comments, "being in an online format has allowed us to become even more international in the students we attract and the experiences we provide to students." Families from areas where programs aren't available appreciate online access, and students enjoy meeting like-minded students from other regions and getting exposure to guest speakers and instructors who are experts in their fields.
Get tips on how to choose an online program.
Fall 2021 programs
I have compiled a list of online programs for all ages, experience levels, and interests. There are opportunities to create websites and mobile apps, learn to operate a ham radio, make robots, explore digital animation, perform science experiments, delve into biotechnology, and more. For most of these programs, kids will attend scheduled, real-time, instructor-led online activities, sometimes in small groups of students from around the country, sometimes with a small group of kids at your home, or one-on-one.
Computer Science
Boolean Girl provides programming classes at a range of skill levels for girls grades 3-9 in Scratch and Python. Five-week classes include lab time and a chance for students to work on their projects and receive feedback and assistance from the instructor. Boolean Girl also offers free online weekend events and short introductory classes that allow students to determine their interests before making a longer-term commitment.
CodeConnects provides supportive and personalized instruction to students grade 4-12 in cutting-edge tech fields, including artificial intelligence, cyber security, and mobile apps, all from the comfort of home. They are empowering students with the skills and confidence necessary to become future leaders, problem solvers, and innovators through code.
Codeverse is a coding program for kids ages 6-13, offering 1:1 virtual coding classes. The interactive coding platform, Codeverse Studio, includes a real programming language and all the developer tools kids need to build real apps and games and quickly bring their creative ideas to life.
CodeWizardsHQ provides afterschool and homeschool coding programs for kids and teens ages 8–18. Kids build games and apps in Scratch, JavaScript, and Python as they advance through each class and complete capstone projects. CodeWizardsHQ delivers fun and effective live, teacher-led coding classes with beyond-the-classroom support, including live office hours, homework help, and 24/7 access to their proprietary platform.
Code Galaxy is a coding school for kids ages 7-18, offering weekly coding classes and private tutoring with topics like Scratch, Roblox, Minecraft, Python, and HTML/CSS/JavaScript. Code Galaxy's instructors provide structure and guidance in an exciting, collaborative, and judgment-free environment.
Code Wiz is passionate about inspiring the next generation and helping kids to unlock their inner genius and loves watching them get excited about coding. Their safe and supervised classes are structured to keep children ages 7–17 engaged, learning, and socializing, with a variety of options to choose from and a small staff-to-student ratio to ensure they receive maximum attention from the coding coach. In-person classes are also available at locations in Massachusetts.
Coding Butterfly is a technology school that teaches JavaScript, Python, and digital arts to children in grades 1-8 who have an appetite for technology. In small classes, teachers personalize the learning experience and work closely with students to explore new concepts and create projects that demonstrate a holistic understanding of what they've learned. One-on-one trial classes and evaluations are available, and in-person classes are also offered in Needham, MA.
Coding with Kids provides year-round academy classes, after-school enrichment programs, camps, and private classes for ages 5–18. Virtual classes are conducted live, in small groups, and teach a variety of subjects, from game development in Scratch or Python to Minecraft Modding, Roblox, Java/C#, and 3D Design. In-person classes are also available at many schools in Washington, Texas, Colorado, and other states.
Coditum offers practical coding instruction in small groups (3:1) and private classes (1:1) to teach the foundation of coding concepts through Python and Java. Coditum aims for results, growth, and confidence to build skills in the real world.
Create & Learn offers small coding classes for grades K-12 students, all designed by Google and Stanford experts. Book a free class and explore Scratch, Python, Roblox, Minecraft, AI, robotics, and many more. Create & Learn also offers free kids' events with experts from NASA, Google, Apple, and Stanford to demonstrate how technologies are used in the real world.
CS Recitations offers coding and math classes for all levels of students ages 8-18. CS Recitations teaches Scratch, JavaScript, HTML/CSS, Python and offers math and coding competitions and private and semi-private sessions in math and computer science. In-person coding classes are also offered at their school in Natick, MA.
Cyber Arts offers Hacker Simulator, a premier cybersecurity and ethical hacking program based in the United States. Participants learn under former NSA agents and Ivy League scholars as they coach students through the ultimate Hacker Simulator to compete with teens across the world. Teens interested in working in the intelligence community or computer engineering world will develop the team leadership, problem-solving, and technical skills needed to pursue these career paths after high school.
Geekedu offers personalized, 1-on-1 computer coding classes focusing on Python, Java, Roblox game development, and math for students ages 7-18. Each student is matched with an instructor based on their skill level and interests to ensure engaging, personalized learning. Parents can explore the program by signing up for a free assessment class.
iD Tech has been offering high-quality online and in-person technology education for over 20 years, including virtual after-school programs and online private lessons. Courses in coding, game development, robotics, design, and math are available to all skill levels for kids ages 7–19.
InspiritAI is a project-based learning experience teaching middle and high school students to create an artificial intelligence (AI) model. Class ratios are 5:1 and InspiritAI collaborates with instructors from Stanford, MIT, and Harvard.
Juni is an online learning experience for kids 7-18, preparing them for the real world through hands-on, personalized instruction. Developed by computer scientists and Google alumni, Juni offers 1:1 50-minute courses in practical subjects not taught in school, like computer science, investing, public speaking, and entrepreneurship.
KIDS 4 CODING bridges the gap between what kids ages 7-16 learn in traditional academic classes and what they need to succeed in a rapidly evolving tech-based society. Saturday classes in Python, JavaScript, C#, Lua, and Java capture kids' imaginations by connecting to their interests and passions, with a solid foundation of practical STEM education.
KTBYTE Computer Science Academy offers small group classes for students ages 8-18. All classes are taught live by experienced instructors and every student receives the support of daily office hours and homework assignments with instant feedback. Visit the website to schedule a one-on-one trial class with one of their instructors. In-person classes are also offered in Lexington, MA.
MehtA+ offers technical 1.5-hour "make your own" workshops on Saturdays for 5th-12th graders, where students learn principles of coding and design while working on a project. Topics include creating a JavaScript animation, Python game, React Native mobile app, Unity + Vuforia augmented reality app, and an HTML+CSS digital greeting card.
Penguin Coding School offers comprehensive year-round coding classes for ages 6–18 for all experience levels. Students learn Scratch, Minecraft coding, HTML/JavaScript, Python, and Java from motivational and engaging teachers in small classes. In-person classes are also available in Lexington, MA.
Qubit by Qubit offers accessible, hands-on, innovative programs for high school students to learn real quantum skills, run codes on quantum computers, and work alongside leading global quantum researchers. Their year-long high school quantum computing course with IBM Quantum is available to any high school student: the only prerequisite is geometry.
Whizara provides 1:1 instructor-led live coding and math classes for kids ages 5-18. The programs are designed to equip students with digital literacy and coding skills, computational thinking, and design thinking via coding and math integrated with coding through age-appropriate fun and engaging programs including Scratch Junior, Scratch, HTML/CSS, Javascript, Python, Java, C++, AI, and Unity video game development.
Worcester Polytechnic Institute runs the Girls Who Code Clubs program, an international non-profit organization that helps to close the gender gap in technology. At WPI, girls will be able to learn the foundations of computer science while exposing them to positive female role models who are currently involved in the field. In-person options are also available in Massachusetts.
Multispecialty
These organizations offer classes in more than one subject area or classes that incorporate a few topics ranging from coding, engineering, and robotics to science, STEAM, entrepreneurship, and leadership.
Boston STEM Lab offers hands-on, live guided STEM classes for children ages 3-6, and recorded lessons as part of the four seasons preschool curriculum offered by music educators Clap for Classics! Outdoor in-person classes are also offered in Chestnut Hill, MA.
Brooklyn Robot Foundry offers fun and creative robot-making classes for children 2-13 years old. Students learn engineering fundamentals as they build an awesome new robot each week in small classes led by skilled teachers. In-person classes are also available in Brooklyn, NY.
Creative Brain Learning offers live classes for ages 6-14 that range from robotics, coding, app and game design to engineering, visual arts, and music. The Online After School Program provides a daily schedule of social learning.
Creator Kidz offers enrichment learning opportunities for kids in grades 2-8 with subjects ranging from watercolors to digital painting to iMovie to chess. One hour per class.
Empow Studios offers after-school classes and private tutoring for kids ages 7-15. Kids have fun learning coding, robotics, film & animation, Minecraft, Roblox, and engineering in their award-winning STEM programs. In-person classes are also available in Empow's Lexington and Newton, MA studios.
Galileo offers Innovator's Club, an after-school club for kindergarten – 5th graders. Designed to complement school-day learning with fun, hands-on projects, Innovator's Club delivers joyful enrichment on a convenient weekly schedule.
iCode Wellesley is an after-school program that offers STEAM programs for kids ages 5-18. Students enjoy learning coding, robotics, web development, Minecraft, Roblox, Python, Java, and engineering. In-person classes are also available in Wellesley, MA.
Ivy Camps USA offers extracurricular programs and classes for ages 6-14 in leadership and STEM. Instructors from the top 10 US universities teach programs and concepts through hands-on experiments, comprehensive instruction, and the pursuit of original projects led by students themselves.
LH Art-STEM offers 30 online projects taught by art and engineering students from top universities including Harvard, MIT, Cornell, and Stanford. Students ages 7-13 use art and technology creatively in a unique global laboratory, where they design and build robots, contraptions, websites, and computer games.
MakerGirl is a 501c3 non-profit organization that is working to bridge the gender gap in STEM fields by providing 3D printing classes to girls aged 7-15. In the sessions, girls learn the fundamentals of 3D printing and programming software and create their own design — gaining experience as creative, analytical, and inventive "Makers" without the fear of failure.
Moonshot Jr is a Silicon Valley company that offers futuristic learning solutions to children between the ages of 10-17. Its 4-stage Innovator program aims to prepare children for the future of work by imbibing an entrepreneurial mindset via product-first learning. Moonshot Jr teaches the following streams: robotics, game development, app development, home automation, and future tech.
New England Sci-Tech offers Ham Radio Technician License courses for children and adults. Ham Radio is an ideal STEM activity on wireless technology for children in 5th grade and up. In-person after-school science clubs in rocketry, robotics, electronics, as well as daytime home school instruction are offered in Natick, MA.
Play-Well's STEM-based LEGO® classes offer several options to fit families' needs, including themed options, classes where a Play-Well kit is included and mailed directly to families, and classes where students in grades K-8 can use their own LEGO® materials. Play-Well also offers in-person classes around the country.
Plugged In is a unique, inclusive nonprofit youth music program where kids ages 8-19 of all levels and needs are welcome. Plugged In's online offerings include Digital Audio Production, Livestreaming, Creative Audio Programming, Ensemble Rock Bands and Peace Tracks, a virtual international cross-cultural youth music program. In-person ensemble rock band classes are also available in Needham, Massachusetts.
SkoolOfCode teaches coding in small groups using the best practices in education. With project-based learning, students ages 6-16 explore Scratch, Java, Python, robotics, and web development, helping children grow holistically by using educational tools proven to work.
Snapology offers play-based STEAM classes for kids 4-14 using LEGO bricks and other familiar toys. In-person classes are also available at locations across the United States.
TechGirlz offers free workshops to middle school girls, grades 5-8. Topics include coding, programming, engineering, entrepreneurship, cybersecurity, game design, podcasting, AI, encryption, photography, digital design, and so much more. 
theCoderSchool is a coding school that focuses on emphasizing mentorships between teacher and student. the CoderSchool teaches courses in game development, programming, robotics, AI, data science, and more. In-person programs are also available around the US.  
Virginia Space Flight Academy offers hands-on STEM programs for students in grades 3-8. Students explore various STEM career paths through a combination of live instruction, asynchronous exploration, and collaborative work sessions utilizing the included materials kit.
Worcester Polytechnic Institute's Tech Kids offers students in grades 5 and 6 the opportunities to explore multiple facets of engineering through hands-on STEM projects and experiments. In-person options are also available in Massachusetts.
Science
BioBuilder Educational Foundation has the goal of making biotechnology accessible to high school learners with a dynamic science and engineering curriculum and experiential learning series that can accommodate virtual, in-person, and hybrid classroom models. Visit biobuilder.org to see the curriculum and to get involved with the online Idea Accelerator course.
National CSI Camp offers a hands-on STEM-related CSI/Forensics class catering to grades 6-12. Participants conduct many CSI experiments taught by an actual detective. In-person classes are also available in New Jersey.
The Christa McAuliffe Center, a science center with a planetarium located on Framingham State University's campus, offers virtual astronomy presentations on special Wednesday nights every month. From the colorful characters in our own solar system to the weird and wonderful things far beyond, each 30-minute-long program (plus Q&A) is sure to contain something of interest to armchair astronomers of all ages. The McAuliffe Center is also offering in-person planetarium programs, including full-dome films and live presentations, on the third Friday of every month at the Framingham State University Planetarium in MA.
The Story School offers exciting STEAM-based adventures for ages 4-18+. Online classes and events teach interactive storytelling through D&D, storytelling, creative roleplaying, and more. Through D&D, fencing, LARP, and games, participants will experience countless exciting twists and turns. In-person classes are also available in Burlington, MA.
Wicked Cool For Kids offers fun, educational hands-on STEAM enrichment programming for kids K–5th grade at home. They provide weekly interactive after-school classes focusing on animation, game design, and coding. In-person, hands-on after-school STEAM programs are also available in Massachusetts.
Math
Aloha Mind Math offers kids ages 6-12 small classes led by a qualified instructor to help develop their skills and confidence in math by learning mental math techniques. Appropriate for a variety of skill levels, these activities help kids build success and have fun with number sense activities in this STEM enrichment program.
Mathnasium offers a program called [email protected]: Live, face-to-face math tutoring with the same instructors and material from their centers. Along with a team of instructors who teach math in a way that makes sense, Mathnasium provides a fun and engaging environment for kids of all levels in grades 2-12 to explore math and build confidence. You can find a center offering online sessions near you by visiting the website and entering your zip code.
Register for Winter Programs
UMass Amherst Summer Programs offers pre-college intensives for rising 10th – 12th graders in a variety of STEM topics. For January 2022, students interested in psychology, data analysis or research are invited to apply for the 2-week online Intro to Research in Psychology program, where they will design and run a psychological experiment and learn to analyze and present their results. The application deadline is December 20th.