In a world that is increasingly technology-based and requires strong problem-solving skills, an entrepreneurial mindset will be a new key to success in the 21st-century workforce. Most of us equate entrepreneurship with starting a new business, raising capital, and relentlessly selling a new, disruptive idea. It can be that, but an entrepreneurial mindset is also about using innovative thinking in our work to identify and solve problems, recognize unmet needs, bring inventive approaches and resourcefulness to problems of all kinds, and using a strategic approach to creating new ideas for products and services, as well as processes and procedures—in any setting. And contrary to the myth that entrepreneurs are born, not made, these entrepreneurial skills can be learned.
Even if your child hasn't expressed an interest in entrepreneurship, they may find growth, inspiration, and enjoyment in one of the growing numbers of youth entrepreneurship programs for kids and teens. These programs are offered in a range of formats, but generally take students through the process of developing an idea, from the initial brainstorming through research, development and refinement, testing, and decision making around manufacturing, pricing, distribution, and marketing. In the process, they learn business concepts like marketing, research, sales, finance, and generally how to create and build a business, often with a strong focus on technology and innovation. They get a holistic view of how companies run and how all of the different components and team members work together. And they learn to bring a curious mind to solving problems, and to get comfortable working in an environment that tolerates risk, rewards creative thinking and features some degree of ambiguity.
Kids and teens thrive in these types of programs. I've heard from a number of educators who watch students blossom during the course of a program, becoming engaged, confident, and enthusiastic to share their ideas, projects, and businesses with other students and wider audiences like teachers, judges, and family and friends. I've seen students flourish firsthand, as I have mentored a group of teens for an entrepreneurial program and attended numerous presentations where students pitch their business ideas in competitions.
"These programs helped [me] realize what problems in the world affect us and how to help solve them, as well as the logistics of entrepreneurship. They helped me learn how to pivot when a business idea was impractical, and gave me the new skill of public speaking and how to best sell myself and my ideas. And I became more comfortable being an advocate for my ideas when I had data backing them up."—Rasya B., 11th-grade, TYE and DECA participant, Plainview, MA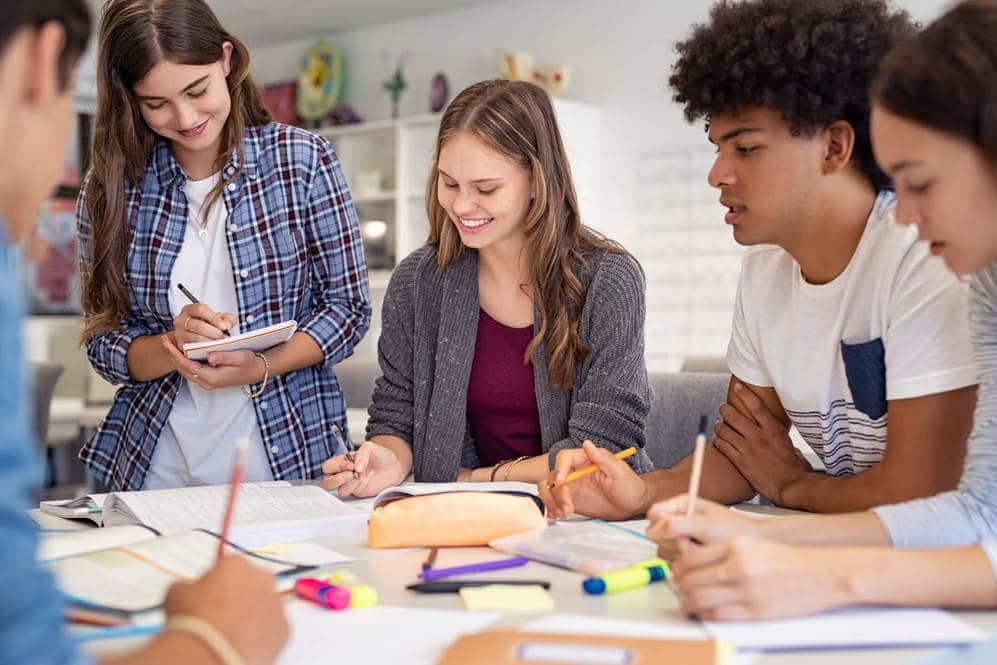 Youth Entrepreneurship Programs
In the listings below, you'll find school-based classes, after-school clubs, and independent programs, many of which include challenges and competitions as part of the program.
The entrepreneurial programs listed here represent just some of the entrepreneurship programs available to students. If you want to expand on this list, search online for local programs, talk with your child's teachers about local opportunities and contact local colleges and universities to see if they offer programs.
BUILD is an entrepreneurship program for underserved high school students that teaches them how to build their own business while becoming the CEO of their own lives. The program teaches 21st-century skills including communication, collaboration, problem-solving, innovation, grit, and self-management. BUILD partners directly with schools in the Bay Area, Boston, Metro DC, and New York City to help students develop and run their own small businesses. Contact BUILD if you are interested in bringing the program to your community.
DECA is an international non-profit association of middle and high school students interested in the fields of marketing, finance, hospitality management, entrepreneurship, and business administration. In classes, clubs, and competitive events, students participate in challenging experiences that help them explore various industries and career paths. DECA members compete at the district, state, and international levels in over 50 competitive categories; some of which involve an exam and a roleplay scenario and some which involve a prepared project and oral presentation. All DECA events are industry-validated and have career readiness as a primary focus. Leadership opportunities are offered throughout the DECA year to enhance competition. Ask your guidance counselor if your school offers DECA classes or has a club. Join a DECA chapter, learn how to bring DECA to your school, and find out about DECA's competitive events.
Junior Achievement (JA) is a global non-profit youth organization that inspires and prepares students in three key pathways: entrepreneurship, financial literacy, and work readiness. Nationally, Junior Achievement reaches over 3 million students per year in over 125,000 classrooms and after-school locations. The classroom-based entrepreneurial programs are offered across all grade levels. As students reach high school, they learn about creative problem solving and rapid business planning and develop a mindset and the skills needed for success by aspiring entrepreneurs and innovators who add value to any organization. Ask your guidance counselor if your school offers Junior Achievement classes. You can also find a JA chapter near you or request a program.
LaunchX entrepreneurship summer program brings together high school students from around the US and world each summer to start real companies in both campus and online programs. With prestigious course materials, experienced mentors, and exceptional speakers, students gain the knowledge they need to launch a real startup. The powerful LaunchX community of top young entrepreneurs innovate, solve real problems, and make an impact. This isn't a project or business plan contest – these are real companies. It takes all entrepreneurial types to come together, so if you're an innovator, maker, designer, dreamer, explorer, visionary, coder, marketer, or just want to change the world, apply now to join for the next summer of LaunchX entrepreneurship summer program.
MoonshotJr.com, a Silicon Valley EdTech company, teaches future-focused technical, entrepreneurial, and interpersonal skills, within streams such as AI, Robotics, Game Development, and App Development, via their online Innovator Program to students ages 10-17. Each child creates a working prototype and launches it on sites like Amazon, eBay, app stores, or NFT platforms.
Network for Teaching Entrepreneurship (NFTE) is a global educational nonprofit focused on bringing the power of entrepreneurship to youth around the country and all over the globe. NFTE provides flexible, project-based learning in classrooms, camps, afterschool programs, and online. Their programs are taught by a highly trained Teacher Corps, and NFTE students (grades 6-12) are supported by a diverse Volunteer Corps from the local community, including business leaders and entrepreneurs. Competitive events are a cornerstone of the NFTE experience. Every year, students have new opportunities to compete for cash prizes — in design thinking challenges, innovation challenges, and NFTE business plan competitions at the local, regional, and national level. These competitions motivate NFTE learners to refine their business ideas and hone their presentation skills to win seed capital they can use to grow a business or pursue post-secondary educational goals. Since its founding more than 30 years ago, NFTE has trained thousands of teachers and educated more than a million young people worldwide. Find a program near you or learn how to bring NFTE to your community.
The Knowledge Society (TKS) is a 10-month innovation program for students ages 13-17 who want to solve the world's biggest problems. The program is modeled after curriculums from Harvard, Stanford, and MIT, and designed to replicate the learning environments of Google and Facebook. TKS has been recognized by organizations like the World Economic Forum. Students at TKS learn about emerging technologies like artificial intelligence, genetic engineering, space tech, and quantum computing; work with global organizations like the United Nations using advanced problem-solving frameworks, and access mentors from companies like Google, Tesla, Apple, Microsoft, and more. Before joining TKS, students go through an application and interview process to be selected. TKS offers generous tuition support to families. Apply by May 31.
The Young Inventors' Program® (YIP) has captured the spirit of youth innovation for over 40 years and is now enriching the third generation of inventors. YIP inspires K-12 students to explore STEM while encouraging them to invent a product or process that solves a problem in their everyday lives. YIP's hands-on, project-based activities engage students of all levels to learn and apply STEM concepts as they research, design and test their inventions. Lessons are age-appropriate and flexible to meet the needs of all inventors. And, YIP is FREE! YIP is intended to be run through schools, libraries, and extracurricular programs with guidance from educators. Students who do not have a local YIP program may invent any time through the Independent Inventor option and complete activities on their own. Please contact YIP for more information on how to bring YIP to your school or local community organization. YIP is a program of the University of New Hampshire Leitzel Center.
TiE Young Entrepreneurs (TYE) program is dedicated to inspiring, challenging, and empowering high school students to become the next generation of entrepreneurs and business leaders. Through their 6-month entrepreneurship boot camp, students have the opportunity to utilize modern skills and tools to bring their ideas to life by building a startup! Students achieve their personal and professional goals through a rigorous and proven STEM-based curriculum, taught by leading startup owners, venture capitalists, and educators. The TYE program currently has chapters in Boston, Silicon Valley, Oregon, Atlanta, Seattle, Tampa, New York, and Dallas. Applications for TYE's 2021-2022 program year will open in the spring. Find your local chapter and learn more about their application process.
The Youth Entrepreneurs curriculum from Empowered uses activities and incentives to develop entrepreneurial mindsets in middle and high school students, and is ideal for use in business, marketing, or entrepreneurship classes at no cost to the teacher, guide, or parent. Empowered is a community of teachers, embracing a growth mindset, committed to their craft, their students, and their communities. Empowered teachers transform classrooms into real-world experiences through an innovative methodology called Experiential Self-Discovery™. Founded in 1991, Empowered has inspired more than 1,000 educators and hundreds of thousands of students across the nation. Empowered is a public 501(c)(3) nonprofit organization funded by private donations. Learn more at teachempowered.org.