April is STEM month in Massachusetts which includes the beloved Cambridge Science Festival and National Robotics Week.  Here's a brief overview of the festival, along with a couple of highlighted events:
Cambridge Science Festival– April 13-22
It's time for the popular annual Cambridge Science Festival running 10 days in Cambridge and throughout Massachusetts. Now in its 12th year, the festival showcases the leading edge in science, technology, engineering, art, and math (STEAM). The Cambridge Science Festival offers activities, demonstrations, workshops, tours, debates, contests, talks, and behind-the-scenes glimpses to illuminate the richness of scientific inquiry and the excitement of discovery. Many of the events at the Cambridge Science Festival are free and open to the public. Check the schedule for ticket and reservation information.
The Science Carnival and Robot Zoo– Saturday, April 14
Part of the Cambridge Science Festival, this annual celebration features over 100 groups offering cool, hands-on activities. Come meet scientists and researchers and launch rockets, make liquid nitrogen ice cream, hold a human brain and much more at this FREE event held around the Cambridge Public Library, War Memorial, Cambridge Rindge and Latin High School and Joan Lorentz Park.
Robot-Stravaganza presented by Brains On!– Sunday, April 15
The folks who make one of the leading programs in the booming field of kids' podcasts — Brains On, the American Public Media science show created especially for kids — are getting ready for one of the year's hottest events for science-loving families, the Cambridge Science Festival's Science Carnival & Robot Zoo.
Join Brains On!—the podcast for kids and curious adults — for a live show during the Expo that's all about robots. Meet some cool bots and hear about the history of robotics. Help Brains on hosts Molly, Marc and Sanden interview top AI researchers and play the Mystery Sound game, just like on their show. Cost: $10/ticket. Venue: Fitzgerald Theatre at Cambridge Rindge and Latin School in Cambridge
Here is a list of free or low-cost STEM activities for your kids to consider this month. Enjoy!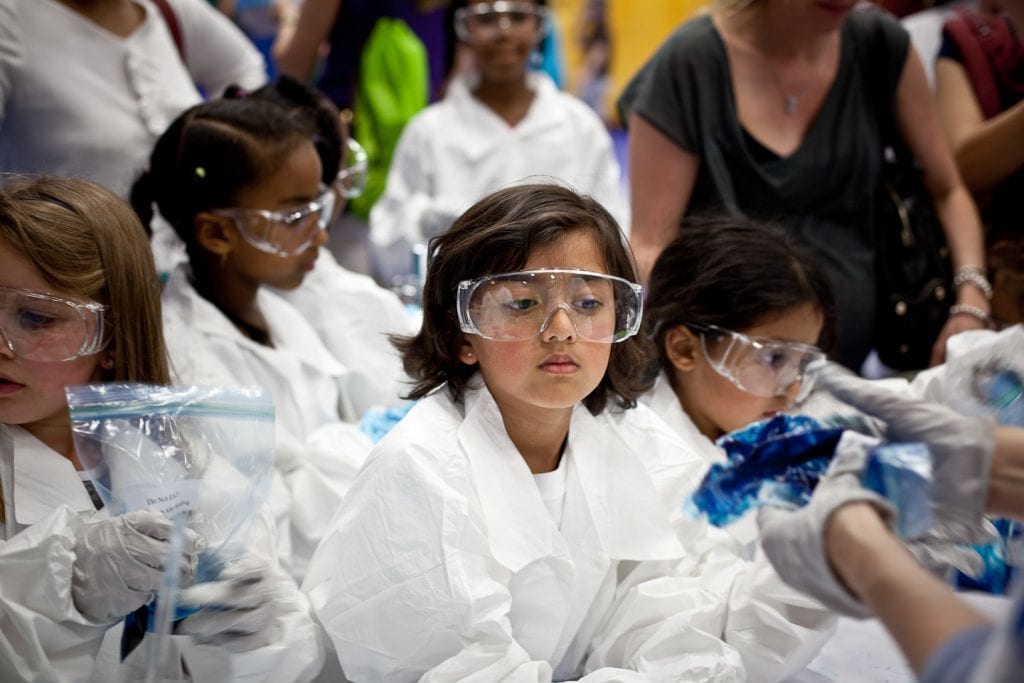 April  (various dates): Learn to code with CodeCampKidz and write HTML, CSS & JavaScript at Microsoft Store in the Burlington Mall and Natick Mall. Intro classes free. (Grades 6, 7, 8)
April 5: Explore and work with Scratch to create games, animation and stories at the Newton Free Library. (Grades 3-4)
April 6: Explore the Discovery Museum in Acton at night on the first Friday of every month for free. The museum will gratefully accept non-perishable food donations for the Acton Food Pantry and Open Table of Concord and Maynard.
April 7: Budding Scientists are invited to participate in the 3rd Annual Brookline Youth Climate Adaptation Challenge at the Pierce School Cafeteria. This unique environmental science fair celebrates nature-inspired innovation, art, creativity and science! New ideas, concepts, theories, poems, plays, dance or art designs are requested – just be super creative, have lots of fun and think BIG! Free event
April 7: Set in the City is a Boston event for high school girls focused on science, engineering and technology. Students will hear presentations from experts in their fields, participate in hands-on activities and eat lunch with women working in STEM. Cost: $25
April 7: Celebrate NanoDays at the Museum of Science and imagine, discover, and explore a world that's too small to see. Free with Exhibit Halls admission.
April 7: Attend Science on Saturday at MIT's Kresge Auditorium and learn about optics. Free event for all ages.
April 7: "You-do-it" Electronics Center in Needham is celebrating the kickoff of National Robotics Week by hosting an event – RoboDay – to inspire and create awareness for students and other community members of all ages about STEM-related fields. Come see robotic product demonstrations. Free event
April 7: Take a free trial coding class open to all 2-8th graders at Penguin Coding School in Lexington.
April 7-15: Celebrate National Robotics Week by participating in an event around the state of MA.
April 7, 14, 15, 17, 21, 22, 29: Hands-on engineering and design programs are offered by the MIT Museum in Cambridge. Free with Museum admission. (Ages 12+)
April 8: Splash is a program for students in grades 5-12 who want to take a variety of classes taught by Clark students at Clark University in Worcester. Free event
April 13-22: The Cambridge Science Festival makes science accessible and fun with hundreds of events for curious people of all ages and there are activities all around MA!
April 14: Splash is a program for middle and high school students who want to take a variety of classes taught by Amherst students at Amherst College in Amherst. Cost: $10
April 15: Visit Empow Studios' Robotics Expo in Lexington. They will have iRobot, You Do It Electronics, Parity Bits and more doing demonstrations. Get tickets on Eventbrite. Free event
April 16-20: Empow Studios is holding April vacation camps taking place in Brookline, Newton, and Lexington. Visit the website for information and to register.
April 17: In celebration of Autism Awareness Month, join Microsoft Store in Boston for a free, 60-minute workshop where participants with Autism will be able to go behind the scenes to learn how to code, program, and play in your own game world. No experience with coding is required. (Grades K-12)
April 19: Museum of Science presents a 50-minute workshop in which participants engineer, launch, and return vehicles for an imaginary space journey at the Newton Free Library. (Ages 5+)
April 20: Meet the Scientists and join Professor Piali Sengupta and her lab members from Brandeis University for hands-on activities based on their work with the worm C. elegans at the Discovery Museum in Acton. Learn how you can use the worm to understand how your sense of smell works! Cost: Free with admission
April 20: Explore the science behind rockets and space exploration in this hands-on workshop for elementary students in the first grade or older at the Morse Institute Library in Natick.
April 21: Attend the South Shore Science Festival in Quincy and participate in activities that will engage kids in a student science showcase and innovative science workshops.
April 21: MITxMake is a student-organized festival that celebrates the maker culture of MIT and the surrounding community at the MIT Zesiger Center in Cambridge. Come see the makers who pursue projects with purpose; focused on the hardware hackers, do-it-yourselfers, committed craftsmen, and the first-time fixers who drive society forward with experiential learning and world-shaking innovation. Cost: $15/Adult and $5/Child
April 22: Become an astronomer for a day and enjoy exploration stations that include hands-on activities, telescope tours, solar observing, a tech hub, and even visit the historic photographic plate stacks at the Harvard-Smithsonian Center for Astrophysics in Cambridge. Free event
April 28: Attend a fun family engineering and science fair at the 5th Annual Engineering Extravaganza in Needham. For all ages and open to all. Suggested donation – 5$/family
April 28: Attend Science on Saturday at Lincoln Lab in Lexington for "The Science of Sight & Color" and understand how the human eye works and how animals see color. (Ages 5-17) Free event
April 28: Physics Exploration Day is hosted by Massachusetts Institute of Technology (MIT)'s Undergraduate Women in Physics (UWIP).This event is geared toward high school girls, with the goal of exposing participants to physics subfields and providing an introduction to current research. FREE event for high school girls and guys.
Photo credit: Cambridge Science Festival