This year, STEM summer camps are being offered both in-person and online, so families will have choices. I'm hearing from program providers that families are signing up for in-person camps, but many are still providing online options so everyone can participate at the level where they feel comfortable.
Looking for online? Take a look at my new list of organizations that are offering live, instructor-led online programs. If you're ready to find a camp, you can jump right to the list!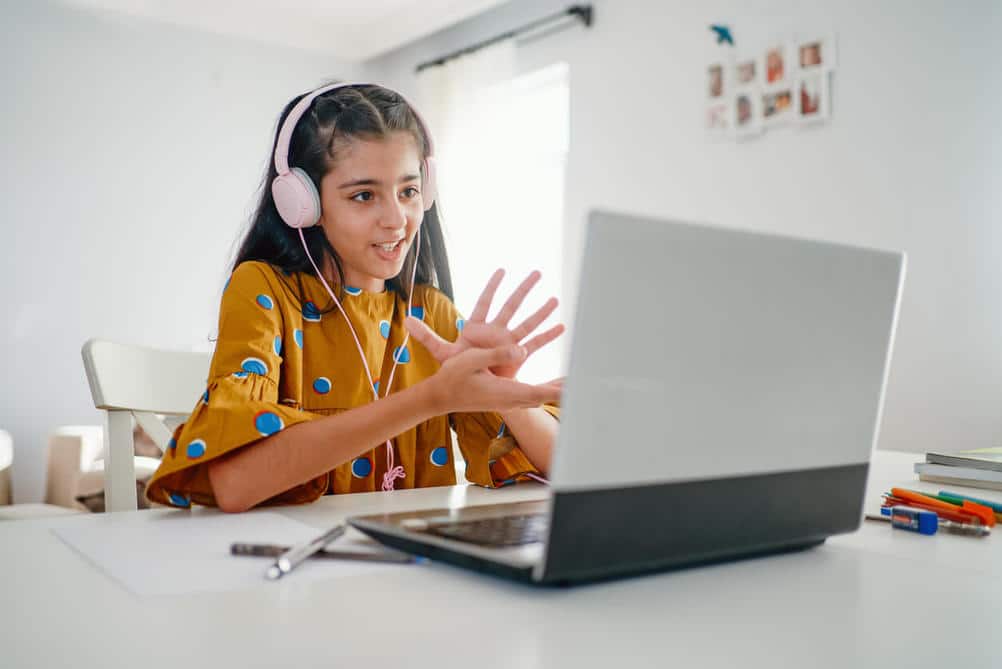 What to expect this summer.
Program providers learned a lot from their experiences hosting online summer camps in 2020 and virtual classes this school year. They have risen to the challenges of teaching in an online world and have adapted their curricula and teaching methods to deliver creative, interactive, and engaging programs.  
Providers tell me they know they have to work extra hard to make kids feel a sense of togetherness in virtual settings. From what I've learned, the winning formula includes smaller class sizes, shorter session times, and incorporating active learning with multiple ways to learn. Some organizations also build in supplemental work outside of camp, which kids can do independently, on their own time, allowing them to practice their skills and work on projects. Get tips on how to choose an online program.
Summer 2021 Program Listings
I have compiled a list of programs for all ages, experience levels, and interests. There are opportunities to create websites, design video games, make robots, explore digital animation, perform science experiments, build with LEGOs, delve into environmental issues, and more. For most of these programs, kids will attend scheduled, real-time, instructor-led online activities, sometimes in small groups of students from around the country, sometimes with a small group of kids at your home, or one-on-one.
Computer Science
Boolean Girl offers online, half-day, STEM camps for girls (and boys) teaching Scratch and Python.  Small class sizes, less than 6 per class, for lots of instructor interaction and attention. In-person camps are also available in the Washington DC metro area. Scholarships are available! 
Classroom Antics offers fun, educational STEAM summer camps to kids ages 7-13. Online virtual programs include Minecraft coding, stop-motion animation, and video game design. Experience the Classroom Antics advantage with small class sizes, dedicated equipment and materials for your child,  professional educators, and fun, safe, social, and respectful learning. In-person camps are also available in Ohio and Michigan.
Code Galaxy offers comprehensive online summer camps and classes for students ages 7-18. From Scratch and Minecraft to Python Programming and Web Development, Code Galaxy's coding camps and classes are the perfect way to spend time off from school with flexible times for both parents and students.
Code Ninjas' camps empower kids to gain valuable tech skills and make new friends. Their team of Code Senseis transforms children's love for technology into an exciting learning adventure. Camps are offered both virtually and in-person, so contact your nearest location to learn more. 
Code Wiz is passionate about inspiring the next generation and helping kids to unlock their inner genius, and loves watching them get excited about coding. Their safe and supervised online classes are structured to keep children ages 7–17 engaged, learning, and socializing, with a variety of options to choose from and a small staff-to-student ratio to ensure they receive maximum attention from the coding coach. Contact your nearby location for availability and more information. 
CodeWizardsHQ has coding classes to fit your summer plans. Choose from the 3-week accelerated summer classes or 1-week summer camps. 
Coding with Kids offers live-virtual computer science, game development, robotics, and digital design classes and camps to students ages 5-18.  Classes range from Little Coders, Minecraft Modding & Roblox to Core Programming, Micro Bit & Creative Photo Design. In-person camps are available in Newton, MA.
Create & Learn offers fun online coding classes for grades K-12 students, all designed by Google and Stanford experts. Book a free class and enjoy summer camp discounts on Scratch, Python, Roblox, Minecraft, AI, Robotics, and many more. Create & Learn also offers free kids' events with experts from NASA, Google, Apple, and Stanford to learn how technologies are used in the real world!
Girls Who Code's free 2-week Virtual Summer Immersion Program is for current 9th – 11th grade girls and non-binary students who want to learn the computer science skills they need to make an impact, get an inside look into the tech field, and join a supportive, lifelong sisterhood — all while being virtually hosted by influential companies like Twitter, AT&T, Bank of America, Walmart, and others. SIP is 100% free, plus Girls Who Code offers need-based tech support and stipends up to $300 for those who qualify. The application deadline has been extended to Friday, March 26th. Apply now. 
iD Tech has been offering high-quality online and in-person technology education for over 20 years, including small-group virtual camps and online private lessons. Ages 7–18 and all skill levels welcome; course topics include coding, game design, digital animation, and much more!
KIDS 4 CODING bridges the gap between what kids ages 7-16 learn in traditional academic classes and what they need to succeed in our rapidly evolving tech-based society. Courses capture kids' imaginations by connecting to their interests and passions, with a solid foundation of practical STEM education. In-person programs are available in Atlanta, GA, and in-person will return to Boston, MA in summer 2022.
KTBYTE Computer Science Academy offers small group classes online for students ages 8-18. All classes are taught live by experienced instructors and every student receives the support of daily office hours and homework assignments with instant feedback. In-person classes are also available in Lexington, MA.
LeapLearner is a global educational system that relies on live lessons to teach children ages 6-16 coding skills. With over 1 million students across more than twenty countries, they offer a unique game-based curriculum that helps children develop their  analytical thinking and creativity. In-person courses may be opened in Massachusetts based on CDC guidelines and Covid-19 status during the summer of 2021. 
MakerKids runs virtual camps, programs and parties on coding, robotics and Minecraft for kids ages 6-13. Kids learn industry-leading technologies, equipping them for high-earning careers of the future, and the best part—the first trial lesson is absolutely free!
MehtA+ is offering an intensive 6-week AI/Machine Learning Research Bootcamp taught by MIT & Stanford Engineers for current 8th-12th graders from June 21-July 30. Students will receive the opportunity to work closely with professors from top universities in completing an AI research project in digital humanities and potentially receive an opportunity to have their work published in an academic journal. 
MoonshotJr.com (a Silicon Valley EdTech company) teaches future-focused technical, entrepreneurial, and soft skills, which includes streams such as AI, Robotics, Game Development, App Development, via their Innovator Program to students ages 10-17. Each child creates a working prototype and launches it on Amazon/eBay/app stores/NFT platforms, etc.
Penguin Coding School teaches 50+ different coding classes for kids ages 6-18 (e.g., Scratch, Minecraft, Roblox, Web, Javascript, Python, Java) and offers beginner, intermediate and advanced programs. They teach year-round so students can continue to take coding classes that they get hooked on in the summer through the academic year. In-person summer programs titled Coding for Arts, Gaming and Outdoor Science, and Robotics are offered in Lexington, MA.
Qcode Labs offers high-quality online classes with intro courses using Scratch, an easy-to-learn programming language. Courses are week-long, with an hour-long class every day. Taught by highly experienced K-12 teachers, small class size (<5 students /class), and affordable pricing. Qcode curriculum is designed by subject matter experts to ensure students have a fun, enriching experience.
Qubit by Qubit offers accessible, hands-on, and innovative programs for K-12 and university students to learn real quantum skills, run codes on quantum computers, and work alongside leading global quantum researchers. Their summer programs include week-long summer camps for middle and high school students, as well as a 4-week intensive summer school for students in high school or college.
STEAM Ahead and the MIT Media Lab are offering The Daily AI workshop, an immersive 2-week (June 21-July 2) virtual program for rising 6-8 grade students. This free workshop will feature hands-on and computer-based activities on a variety of artificial intelligence concepts. Application required.
SummerTech offers kids ages 10-17 personalized learning experiences in Python, Java, web design, 3D modeling, and animation. In-person camp will be available in Westchester County, NY.
Whizara provides instructor-led live online coding and math camps and 1:1 classes for kids ages 5-18. The programs are designed to equip students with digital literacy and coding skills, computational thinking and design thinking via coding and math integrated with coding through age-appropriate fun and engaging programs including Scratch Junior, Scratch, HTML/CSS, Javascript, Python, Java, C++, AI, and Unity video game development.
YoungWonks is a WASC-accredited coding and engineering program for kids and teens ages 8-18. YoungWonks started in 2014 and offers computer science classes in robotics, Internet of Things (IoT), and game development. Students can attend a 45-minute trial class for free before signing up for a camp.
Multi-Specialty
These classes may include coding, engineering, robotics, science, STEAM, entrepreneurship, and leadership.
Acera has online STEAM programs for kids ages 7 and older. They offer week-long, half-day summer camps in art, theater, digital drawing, photography, architecture, and live-action role-play, all taught by specialist educators with field-based expertise and a passion for learning. Acera also offers small group in-person camps (for kids 5 and up) at its school in Winchester, MA. 
Artisan's Asylum offers "pay what you can afford" immersive programs for teens (ages 10–16) guided by engineers and fabrication experts. Junior engineers will be challenged with daily missions, like designing the first life-sustaining habitat on Martian soil, programming a Mars Rover to explore the red planet, or making kinetic creatures that move and groove. There are no right answers, just a million possibilities!
Boston STEM Lab is a hands-on program for children and their parents or caregivers. In the virtual summer camp program "Food Science" (for the whole family) campers are introduced to the science behind the sense of taste and get to experiment with food! In-person camps are also available in Chestnut Hill, MA.
Brooklyn Robot Foundry knows how to get the summer fun flying, and driving, spinning, lighting up, shaking—you get the idea!  Children will love building a zany new robot each day, as well as all of the other fun activities, during the Foundry's online Summer Circuits program. A small in-person program is also available in Brooklyn, NY.
Build-It-Yourself offers 30 online projects taught by art and engineering students from top universities including Harvard, MIT, Cornell, and Stanford. Elementary and middle school students use art and technology creatively in a unique global laboratory, where they design and build toys, contraptions, websites, computer games, and robots. In-person camps are also available in Massachusetts.
Creative Brain Learning's 2021 Virtual Summer Camp line-up includes STEM and art programs, ranging from Roblox Video Game Design and Scratch Coding to Robotics, LEGO Engineering, Anime Drawing, Painting Like the Masters, Animation and more! Programs are available for ages 6-15.
Creator Kidz offers remote enrichment learning opportunities for kids in 2nd through 8th grade ranging from watercolors to digital painting to iMovie to chess. One hour per class.
Cyber Arts Camp is a transformative educational experience for teens who are inspired to leverage new technologies to transform tomorrow's world. Summer camps include Bioengineering and the Cyborg Future, Future Cities & Sustainability, and Hacker Simulator. Cyber Arts Camp is run by experts in the creative technology and social impact startup space. In-person camps will be available in NYC.
DC Design offers Design the Future: Digital, a program that teaches high school students how to design and build products for individuals with disabilities. The program, created by DC Design and developed in collaboration with the Institute of Design at Stanford (the d.school), partners teams of high school students and their university design coach with an individual living with a physical disability. In the two-week remote summer program (June 14-26), students design and launch real apps that improve the quality of life for individuals with disabilities.
Dreams for Schools will be offering online classes with live instruction for children in 1st to 8th grade that give them a chance to explore STEM and technology through hands-on engineering projects, website development, mobile app creation, and more! DFS programs inspire and educate students to be STEM and computer science literate with the hard and soft skills needed to become the critical thinkers, creative leaders, and technologists of tomorrow.
Empow Studios helps kids have fun all summer long learning coding, robotics, film & animation, Minecraft, Roblox, engineering, and more in their half-day virtual summer camps. With a 6:1 camper-to-counselor ratio, counselors get to know each camper personally, providing an awesome virtual camp experience. In-person camps are also available in Massachusetts.
Engineering For Kids is a network focusing on STEM education for children ages 4-14 through fun and interactive learning sessions. It features a variety of online programs, including new camps and programs featuring esports and Minecraft leagues this summer. Engineering For Kids also offers in-person camps across the country and a complete listing can be found on its website.
Geek Education (Geekedu) focuses on computer coding for kids and teens ages 7-18, offering beginner or advanced students the option to learn Scratch, Python, Java, and math lessons in an accelerated summer course. Each student is specially matched with an instructor based on their skill level and interests to ensure engaging, personalized learning. Summer camps provide 1-on-1 private instruction with flexible scheduling. 
Girls Take the Lead delivers live virtual STEM + Leadership camps with exciting topics for girls 9-16: The Science of Cosmetics, Explore Mars, Design For Good, Pollution Solution, and Artificial Intelligence. In-person camps are available at Olin College in Needham, MA.
GreenApple Campus provides live virtual STEM + Innovation + Technology summer camps for ages 7-16. Explore NASA and Mars, build VR & AR, and participate in GameLab and STEAM Studio. New Artificial Intelligence camps and virtual small group academic support in math and science are available. In-person camps are held at Olin College in Needham, MA.
iCode offers 10+ unique camps and combines fun, engaging content and exciting learning on the newest technologies. In-person programs are available in Wellesley, MA.
Inspirit AI offers a 10-session (25 hours) pre-college enrichment program that exposes high school students to fundamental artificial intelligence (AI) concepts and guides them to build a socially impactful project. Through their projects, students tackle real-world problems that matter to them. Taught by Stanford, MIT, and Harvard graduates, all students receive a personalized, interdisciplinary learning experience with a student-teacher ratio of 4:1.
Ivy Camps USA is offering online summer programs for ages 6-14 in Leadership and STEM. Programs are taught by instructors from top 10 USA universities, and concepts are explained through hands-on experiments, comprehensive instruction, and the pursuit of original projects led by students themselves. 
Juni Learning, an online academy, is offering a selection of 5-day Summer Camps for 8-18-year-old students interested in coding, data science, and liberal arts. Juni Campers will get ahead of the pack and discover their passions — all while connecting with their peers and getting mentored by Juni instructors from top U.S. universities.
ScioCamp is an interactive online program for ages 10-14 that provides an alternative to traditional science enrichment classes. While leading a diverse array of STEM courses, instructors also serve as mentors to their students, helping them to form lifelong study habits and cultivate a love of learning.
Smithsonian Summer Virtual Adventures introduces the world of the Smithsonian to children entering kindergarten through eleventh grade—fly to the moon, dive deep into the ocean, be innovative, create art, and more! Adventurers take virtual field trips and interact with other kids while playing games, creating crafts, meeting experts, and completing challenges. 
Snapology offers play-based STEAM programs for kids 4-14 using LEGO bricks and other familiar toys. In-person camps are also available at multiple locations in the US.
STEAM Ahead is hosting 2021 S.T.E.A.M. Camp, a series of free, 2-week long workshops that will explore a variety of topics including computer coding fundamentals (Python and web development), engineering, songwriting, product design, marketing, and more. Suggested for ages 12-16; application required. Visit the website for information regarding in-person programs in Massachusetts.
The Christa McAuliffe Center is hosting a week-long exploration of the life cycle of stars for high school students this summer, taking each participant on journey from the birth of new stars to their spectacular (and sometimes explosive) deaths! Each session of this 5-part series consists of a 75-minute live, interactive virtual program hosted by an experienced McAuliffe Center educator.
The United Nations Association of Greater Boston offers 6 different week-long virtual Model UN programs for teens. In Model UN, students learn about a global issue and step into the role of diplomats to address a problem from a global perspective. Scholarships are available for those seeking financial support to attend the program.
Tufts CEEO is offering week-long online engineering workshops for kids in grades K-12. Workshops will be hands-on and topics will range from LEGO robotics to survival engineering.
Virginia Space Flight Academy provides high-quality STEM learning experiences online for students in grades 3-8. Multiple modules are available this summer and more will be offered in the fall. Virginia Space Flight Academy offers an in-person Space Adventure Camp in Wallops Island, VA each summer. 
Z-Kai Learning Lab is offering a summer program from June 28 – August 27 with classes in Scratch, robotics, coding (Python), and math. There are two options for prospective students: half-day (9:00PM – 12:00PM and 1:30PM – 4:30PM) or full-day, which covers both classes. In-person camps are available in Arlington, Massachusetts.
Science
Boston Leadership Institute offers competitive admissions options that include Biotech Research, Biomedical & Surgical Research, & STEM Entrepreneurship. Introductory program offerings include Big Data, Polymer Chemistry, and Sports Statistics. In-person competitive admission and introductory programs for high schoolers and introductory programs for middle schoolers will be available in Wellesley, Waltham, and Boston, MA.
ExSciton is offering a summer camp for science starting July 12 for grades 2-5 and 6-8 in two separate classes. This summer camp will run for 4 weeks with 3 hours class every day from 9am-1pm EST. In-person camps are available in Acton, MA. 
Fossil Crates offers June 21-25 at Noon PST/ 3PM EST a unique dinosaur virtual summer camp. Join Dr. Brian Curtice for 5 days of dinosaur fun, ending in a virtual dinosaur search in the Flaming Cliffs of Mongolia. 
National CSI Camp is a CSI/STEM-related, virtual, 5-day course for students between the grades of 6-12. Students are sent lab kits to conduct many hands-on experiments guided by an actual Detective via Zoom. In-person classes are also available in the New Jersey area. 
The Cold Spring Harbor Laboratory DNA Learning Center provides virtual weeklong summer camps in genetics and molecular biology. Campers receive materials kits so they can perform labs and activities from home, and participate alongside classmates and instructors in real-time or on-demand with video instruction. In-person camps are also available at DNA Learning Centers in Cold Spring Harbor and Brooklyn, New York.
The Forsyth Institute Student Scholars Remote Science Camps is for middle and high school students interested in science. 5-day Remote Science Camps, introducing students to the oral health research-focused science in which Forsyth scientists specialize—microbiology, immunology, bones and teeth, public health, and oral health. Middle school camps will focus on one specialty area each day. High school camps will focus on a single topic per camp session: microbiology, immunology, etc.
Wicked Cool For Kids offers fun, educational hands-on STEAM enrichment programming for kids K–5th grade at home. They provide complete science kits at home and weekly interactive online classes focusing on science, engineering, and coding. In-person programs are available and listed in the "Current Program Locations" tab. 
Math
Aloha Mind Math offers kids ages 6-12 small online classes led by a qualified instructor to help develop your child's skill and confidence in math by learning mental math techniques. Appropriate for a variety of skill levels, build success and have fun with number sense activities in this STEM enrichment program!
Mathnasium offers a program called Mathnasium@home: Live, face-to-face, online math tutoring with the same instructors and material that is taught in their centers. Along with a team of instructors who teach math in a way that makes sense, Mathnasium provides a fun and engaging environment for kids of all levels to explore math and build confidence. Find a center offering online sessions near you by visiting the website and entering your zip code.
Russian School of Mathematics is offering K-12 online or in-person math courses this summer. Test prep courses including SAT I, ISEE, and more are also available. Online classes, which are teacher-led, interactive, and closely mimic in-person classes, are available at every location. Many of RSM Massachusetts branches also offer in-person classes that follow all COVID-19 guidelines. 
sySTEMic flow's Online Math Institute Program offers 5-week courses to entering 4th–12th-grade students. Their wide variety of subjects includes Fractions, Decimals, and Percentages, Algebra I, Algebra II, Geometry, and Trigonometry, all packed with the information students need to pass their math class and prepare for the next.
A note on university-based summer programs.
Due to the sheer number of programs, this list does not feature programs run by colleges and universities. If you want a university-based program, it's best to search on a specific topic. For instance, you might search on '[name of a university near you]  pre-college summer [robotics] programs.' For example, in my home state, UMass Amherst and Worcester Polytechnic Institute offer a variety of summer virtual offerings.