If you've heard of hackathons, you may envision groups of college students and 20-somethings working intensely together against the clock, coding frantically at laptops in vast conference spaces, to complete a project over the course of a multi-day event. While this kind of competition can be appealing to adults, it isn't necessarily the best approach for a teen cautiously curious about coding!
I'm happy to report a growing community of coding hackathons geared toward high school students. I have been a fan of student hackathons for a long time, and I'm glad to highlight the benefits—and limitations—in this article. Whether your teen is just entering the world of coding or is already comfortable with tech, there's a place for them in today's teen hackathons.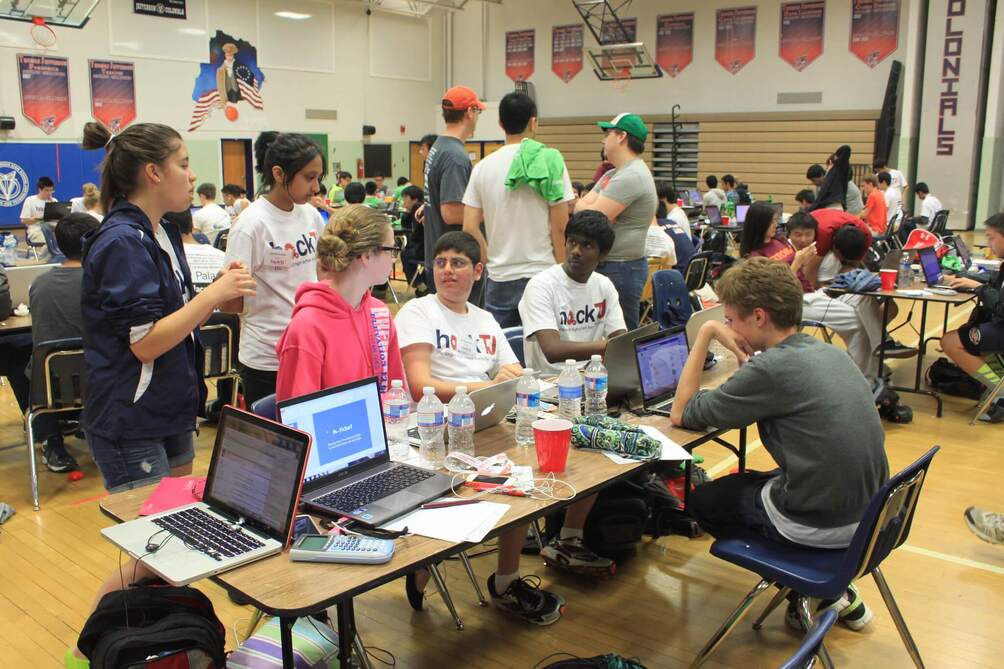 Teen Hackathons
There are increasing numbers of hackathons tailored specifically for high school students. Student hackathons are typically one- to two-day in-person or online events where teams of students collaborate to build tech projects like games, web pages, apps, and products.
Hackathons emphasize learning, creativity, and collaboration on projects. The events I have encountered stress inclusivity and encourage participation across all experience levels, from beginners with no coding experience to advanced. It's a supportive, fun, project-based environment where teens can try something new, make friends, and build coding and engineering skills.
See student projects created by hackathon participants in Hack3's project gallery.
What Happens at a Student Hackathon?
Although they can vary, a hackathon is typically a short, time-intensive, immersive event in which participants are challenged to create a project. They're usually characterized by
Short-term coding projects in which individuals or teams brainstorm ideas and design products and services, often addressing a timely and complex challenge
Generally free admission
Most often a competition with prizes and free swag!
Sometimes a hardware hackathon where participants brainstorm new product ideas and make a prototype using technology such as 3D printers, electronics like Arduino and Raspberry Pi, and software
Often, there's an emphasis on learning: participants teach what they know about topics in computer science, learn from their teammates and mentors, and hear guest speakers from the computer science industry.
Benefits for Teens
Whether your child is just dipping their toe in and wants to see what coding is all about, or they have some coding experience and want to learn more and work with others, a student hackathon has plenty of benefits:
Develop coding skills. Gives students first-time exposure to coding or builds on their existing skills.
Conceptualize and build projects. Teens can showcase their completed projects in their college application portfolios. And they'll get a sense of accomplishment, whether the project is finished during the event or they continue to work on it afterward.
Gain entrepreneurial experience. Often, students brainstorm product ideas and try to solve real-life problems. It's a great way to build an entrepreneurial mindset and see where technology fits into developing a new product or service.
Work within a team. Collaboration and teamwork are more important than ever today! Experience designing, coding, and building within a team prepare students for college and the working world.
Network, interact with mentors, and get career exposure. Some teen hackathons provide adult mentors—it's a great opportunity to meet and learn from people in the tech industry. And some hackathons include guest speakers that discuss careers in technology and specific industries.
Enhance a teen's resume! Hackathon participation is a good addition to your child's college portfolio and can be helpful when applying for scholarships, internships, and jobs. If they finish their project, it also enables them to show examples of their work.
Some Caveats about Teen Hackathons
While I'm a big fan of hackathons for teens interested in tech, there are some pitfalls that you should be aware of, which were brought to my attention by MIT student blogger Kevin Fang, who has organized teen hackathons and participated in hackathons for college students. Kevin points out that the logistics of a 2- to 3-day in-person hackathon for college students are not suited to teens (e.g., where are they housed, and who is supervising them?). As a result, most in-person teen events are shorter, 6–8 hours, which is not enough time to fully conceive and create a worthwhile project, much less get to know your team and benefit from the teaching and guest speakers at the event.
In particular, Kevin comments, "I've viewed countless GitHub profiles with dead hackathon projects: barely functional and nothing more than a React website with a few text fields and pages." His view is that while participating in a hackathon may look good on a resumé, especially if you win a prize, it's more impressive to continue to work on the project after the hackathon and take it all the way to completion. And, "personal projects and other coding endeavors are much more rewarding and beneficial to personal development." Serial participation in teen hackathons may use time that could be used for these more valuable independent projects.
Still, hackathons can be great experiences for teens looking for hands-on tech challenges and team collaboration. So, as with so many things, the ideal is to find hackathons that match your teen's interests and have them participate in moderation. Think of it as just one of several "tools in the toolkit" for getting computer science experience, including high school classes, after-school coding clubs, summer programs, and independent projects.
Finding a Hackathon
If your child is interested in participating in a hackathon, there are a few websites that maintain a running list of in-person and online student hackathons. New events are always being added to these sites. Browse the possibilities and find an upcoming event in my companion article for teens.
Image credit: Photo by Vicky Somma– Hackathon at Thomas Jefferson High School for Science and Technology