I am delighted to let you know about Science in the Summer, a free STEM summer program for children entering grades two through six, targeting minorities and underserved communities. Presented by the pharmaceutical company, GlaxoSmithKline (GSK), the program has been active for 30 years in PA and NC, and this summer it is expanding nationwide. The expansion will include 26 new sites and is estimated to reach at least 25,000 students.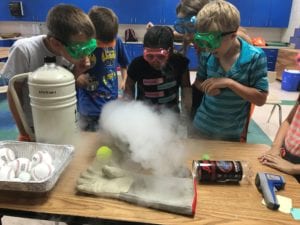 This year's theme is "The Science of Sports": giving students behind-the-scenes insight into how the professionals who support the athletes help them perform at their best. What caught my attention and piqued my interest in this program was the use of sports to teach science. Whether they are a student-athlete and/or a sports fan, most kids can relate to sports. By tapping into something that touches the lives of so many students, I thought this was a smart approach to getting kids interested in STEM.
About the Science of Sports Program
I spoke with Marti Skold-Jordan, Manager, US Community Partnerships and asked why GSK developed a sports-themed science program. "Through our nationwide expansion, we can bring GSK Science in the Summer to new communities around the U.S. reaching kids from underrepresented groups such as minorities and females," Marti shared. "The Science of Sports was selected as this year's theme because we want to show kids that they can be involved in sports even if they aren't the star athlete because these players are surrounded by science professionals – from trainers, nutritionists and physical therapists to statisticians and equipment engineers – who help them to perform at their very best."
I was curious to know how the curriculum was developed and Marti told me that a team of educators from The Franklin Institute (prominent science museum), the Morehead Planetarium & Science Center, and the American Association for the Advancement of Science (AAAS) worked together over several months to develop, test, an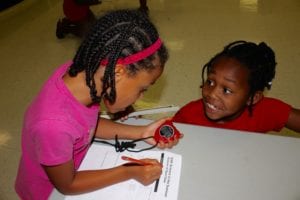 d refine the content and activities that make up the Science of Sports curriculum.
Dr. Karen Elinich, the Franklin Institute's Director of Science Content explained, "The Institute wants every student to enjoy learning about science, especially in the summertime when programs like this can help kids cultivate their curiosity and find the fun in science." She added, "The teachers who work with us during the summer are liberated from school-year demands and are able to inspire kids to discover their passions and celebrate the pure joy of learning."
The Science of Sports content invites children to explore the role of science, technology, engineering, and math in sports. Through active, hands-on learning, students discover that athletes need to be physically fit, mentally fit, and properly equipped to excel. At the same time, students learn how athletes are supported by a broad and diverse network of STEM professionals. Most kids know that athletic ability leads to success in sports. The Science of Sports program shows them that science is another way to get in the game. Specifically, students learn about physical fitness, nutrition, how the brain learns, and about the materials used in sports equipment. There is also an opportunity to engage in experiments and activities like building and testing bouncy balls, creating a healthy sports drink, and more.
What Parents Say
This long-running summer program is popular among students and parents. Beth Basile, mother of five sons who all went through the program in Bucks County outside of Philadelphia, is a fan of Science in the Summer. She was impressed with the curriculum and said, "The classes were very hands-on, which is something that elementary school science classes can't always offer.  I also used the curriculum as a catapult for other science-related activities that we could do over the summer."
Beth also said the fact that the program is free is an added benefit. "A lot of science camps are expensive. GSK Science in the Summer is a very achievable way for families to keep their kids excited and engaged with science over the summer."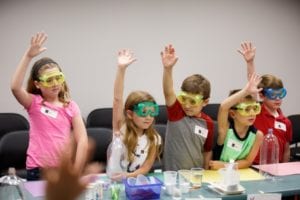 Learn More
The four-hour program is held by libraries, science organizations and community-based organizations that GSK has partnered with and is open to students entering grades 2-6. To learn more, please visit: http://www.scienceinthesummer.com/.
About GSK
GSK is one of the world's leading research-based pharmaceutical and healthcare companies and is committed to improving the quality of human life by enabling people to do more, feel better and live longer.  For further information, go to us.gsk.com, follow us on twitter.com/GSKUS, or visit our blog (www.morethanmedicine.us.gsk.com/blog/). For more information on GSK's global STEM education program, visit gskscienceeducation.com.
Photo Credit: GSK