Free Computer Science Programs for Girls & Young Women
I have been a longtime advocate of Girls Who Code and admire their mission to build the world's largest pipeline of female engineers through computer science education and programs. As Girls Who Code celebrates its 10th-year anniversary, I wanted to let you know how girls can participate.
At its start, Girls Who Code offered free coding clubs for middle and high school students. Over the years, the organization has grown and expanded its offerings to meet the demands and needs of its community. They have added Summer Immersion Programs, coding clubs for grades 3–5, and home-based activities. They've also expanded into programs that help college-aged and early-career women and non-binary people build belonging in tech and develop essential professional skills. And all of their programs continue to be free!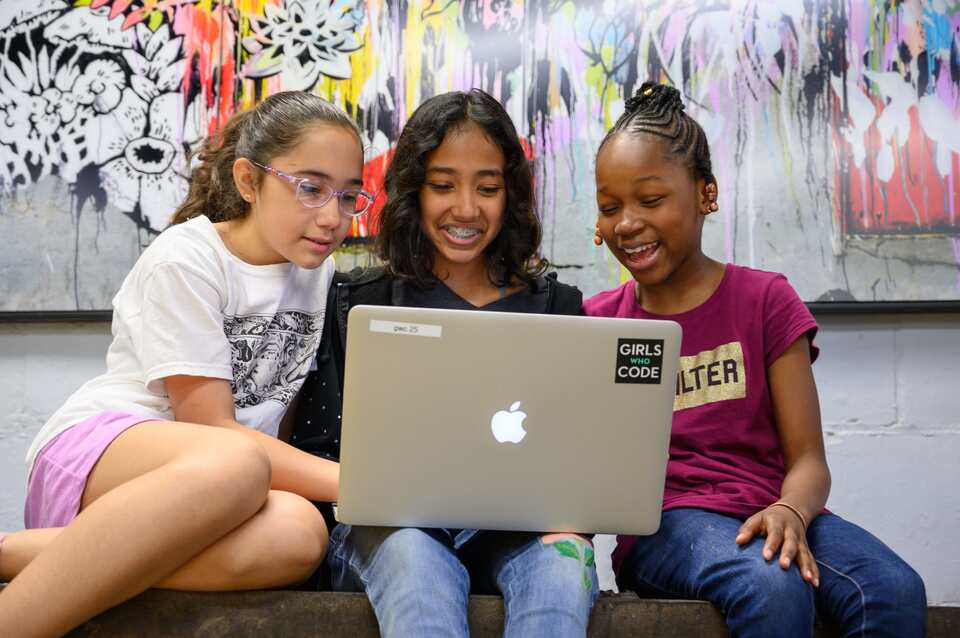 My daughter benefited from being part of Girls Who Code, and so have many young women I've interacted with over the years. For some, it was an introduction to coding that launched them into computer science classes in high school; for others, it was a path to studying computer science in college.
Over the past 10 years, Girls Who Code has reached 500,000 students through its free clubs and programs. Today, 115,000 of Girls Who Code's alumnae are college- or career-age, and the organization is on track to close the gender gap in entry-level tech jobs by 2030.
Closing the Gender Gap
Why is this important? Today, only 25% of computing professionals are women, and an even smaller percentage are women of color. As tech solutions rapidly expand to every facet of daily life, women's absence from computer science hinders innovation and leaves almost half of the population without equal representation in our digital world.
Dr. Tarika Barrett, CEO of Girls Who Code, told me that offering flexible programs, resources, and support is essential to their goal of helping students succeed in their education and work lives. "We know our students are ready to make a difference. It's up to us to give them the tools to succeed."
How to Get Involved
Learn more about what Girls Who Code offers below, and keep up with their latest news in your inbox and on Instagram, LinkedIn, Twitter, and Facebook.
Girls Who Code Clubs are free computer science programs for 3rd–12th-grade students of all genders. Thoughtfully designed with step-by-step guidance and dedicated live help, Clubs give eligible volunteer adults the tools to lead over 120 hours of flexible, project-based programming—no coding experience is required. Plus, Clubs offer swag benefits and a Clubs Fund to deliver critical supplies and inspire computer science interest. Facilitators and students can sign up here to start a Club, or check out Girl Who Code's locations map to find a Club in your area.
Girls Who Code offers free summer programs that give high school-age girls and non-binary students a chance to get exposure to tech jobs, meet leaders in tech careers, and find community. The Summer Immersion Program (SIP) hosts students in live, virtual classrooms sponsored by industry-leading companies. SIP participants get an inside look into the tech industry while learning HTML, CSS, and JavaScript; they can also apply for need-based grants to support their summer experience. Meanwhile, the Self-Paced Program lets participants work independently to explore introductory coding with HTML, CSS, and JavaScript, or more advanced applications of Python with a focus on cybersecurity. Interested? Get started here.
Girls Who Code's free College & Career Programs help college-age students and early-career professionals (ages 18-25) to persist in computer science. Programs like on-campus, student-led College Loops build community. Others, like Technical Interview Prep and the Hiring Summit, focus on developing professional skills and helping students land their first jobs in tech. Get updates on these and other college & career programs with the College & Career Newsletter.
Girls Who Code first developed free Code at Home Activities to deliver high-quality computer science materials during the pandemic. What began as a project to support vulnerable students learning at home continues today as free, downloadable activities. Code at Home offers online and offline activities of varying difficulty levels and features pioneers of innovative technology. Anyone—students, parents, and educators alike —can enjoy coding activities at home here.
Final Thoughts
At its 10-year mark, Girls Who Code is offering myriad ways for students to get involved with computer science and join a vibrant network of female engineers. As their tagline says, they're "here to change the face of tech!" If you don't have a Girls Who Code club near you, I encourage you to start your own club at your school, library, or community center! You don't need coding experience to start a club, just the curiosity and enthusiasm to learn and work with others!
I would love to hear from Girls Who Code alumnae. I invite you to comment about your experience and your current work.
Image Credit: Girls Who Code