I am excited to tell you about Reaching for the Stars: NASA Science for Girl Scouts, a new program announced by the Girl Scouts this week. Girl Scouts of Eastern Massachusetts (GSEMA) are one of 11 councils nationwide chosen to pilot a new five-year program in partnership with NASA and SETI Institute.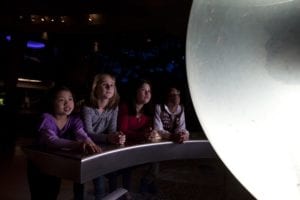 The new program, devoted to space science, will give Girl Scouts at all grade levels the opportunity to earn new Space Science badges as they explore careers in science, technology, engineering, and math (STEM). Although Girl Scouts have had programs focused on space previously, what's notable about this is the comprehensive nature of the program, and the fact that it is tailored to each age group, even the youngest Daisies.
The new Space Science badges, part of Girl Scouts' larger suite of STEM programming, are intended to foster a lifetime love of the cosmos. There are six badges being developed for Daisies, Brownies, Juniors, Cadettes, Seniors, and Ambassadors that have been tested around the themes of NASA's space sciences: astrophysics, planetary science, and heliophysics. In other words, the badges are thematically the astronomy of the solar system, including the Sun (heliophysics), stars, galaxies, and the universe—everything beyond Earth. The badges build a progression of skills, starting with an introduction to the fundamentals of space science, leading to girls using current NASA research to make their own discoveries.
"Based on our experience offering innovative STEM programs, we know our girl members respond to opportunities to discover the excitement of STEM in a supportive, girl-centered environment, and help blaze a path for future Girl Scouts nationwide."

– Patricia A. Parcellin, Chief Executive Officer, Girl Scouts of Eastern Massachusetts
It is wonderful to see the Girl Scouts, an organization that has been around for 105 years, continue to evolve and stay relevant by introducing fresh and stimulating programs that appeal to girls. I am pleased to see the Girl Scouts make STEM a priority and introduce programs that build enthusiasm and confidence for STEM. I also love the fact that girls will be able to connect with women at NASA to explore careers and paths to STEM fields.
About Reaching for the Stars
I spoke with Kerrie Constant, Senior Director of Programming, Girl Scouts of Eastern Massachusetts (GSEMA) about the new program, and she said, "We're thrilled that we now get to share this exciting news with our community!"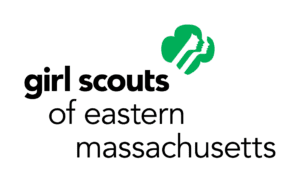 Kerrie started by telling me that the program was initiated by Girl Scouts of the USA in collaboration with NASA and SETI, and that GSEMA was selected to participate in the 18-month pilot because of its STEM programming leadership.
Kerrie said that Girl Scouts of Northern California were the first council to pilot the Reaching for the Stars program and the response was very positive. Girl Scouts of Eastern Massachusetts was the second council invited to participate in the Reaching for the Stars pilot. GSEMA invited local Daisies and Brownie troops to participate in spring 2017 and Kerrie said they quickly exceeded the program cap of applicants. This fall, participating Juniors will join the pilot and Cadettes start in spring 2018.
Kerrie explained there will be a range of activities within the Reaching for the Stars pilot program including:
Learn about space science and engage in scientific inquiry while girls explore the sky
Develop communication skills through the opportunity to provide feedback. They can be part of history as they help develop the new badges.
Receive a NASA badge test pilot patch, designed solely for participating troops
In 2019, Girl Scouts can earn the new Space Science badges at all grade levels:
Daisies (K-Grade 1): Space Science Explorer, which introduces Daisies in kindergarten and first grade to the fundamentals of space science
Ambassadors (Grades 11-12): Space Science Master, which engages Ambassadors in their own explorations of space based on research that NASA scientists are conducting
Other badges:

Brownies (Grades 2-3): Space Science Adventurer
Juniors (Grades 4-5): Space Science Investigator
Cadettes (Grades 6-8): Space Science Researcher
Seniors (Grades 9-10): Space Science Expert
Star Parties Open to the Public
GSEMA will host Star Parties throughout the Girl Scout council this fall and spring 2018. The events will be open to the public allowing new girls and their families the opportunity to explore STEM interests in space science and learn about all that Girl Scouts has to offer. GSEMA will partner with local amateur astronomers and observatories.
Support for Volunteers
You do not have to be a rocket scientist to support girls' interest in space science. Starting in 2019 when the program rolls out nationally, Girl Scouts' online Volunteer Toolkit will deliver all the new Reaching for the Stars content and activities to troop leaders, volunteers, and parents. (For pilot program troops, a pilot Volunteer Toolkit is provided.) It's like a "digital assistant" that makes it easier to plan meetings and activities. For the Space Science badges, the Volunteer Toolkit is particularly handy for volunteers who will want to study up before guiding girls on their own experiences. Kerrie explained, "We like that it helps make the programming more accessible and understandable, so there's no need to feel intimidated by all the new information."
To learn more, please visit: http://www.gsema.org/content/dam/girlscouts-girlscoutseasternmass/documents/prelease/NASA-Space-Science-Badge-Press-Release.pdf.
About GSEMA
We're Girl Scouts Eastern Massachusetts (GSEMA). We're 50,000 strong, with 35,000 girls and 15,000 volunteers in 178 communities in eastern Massachusetts who believe in the power of every G.I.R.L. (Go-getter, Innovator, Risk-taker, Leader)™ to change the world. Girl Scouts is the preeminent leadership development organization for girls. GSEMA is the 10th largest Girl Scout council in the United States, building girls of courage, confidence, and character, who make the world a better place. To volunteer, reconnect, donate, join, or learn more, visit www.gsema.org.
Photo Credit: Girl Scouts