Two of the largest companies who run computer summer camps, iD Tech and Digital Media Academy, recently added artificial intelligence courses to their roster of summer camps. Artificial intelligence is a field of computer science where machines imitate intelligent human behavior and perform tasks that humans do on a regular basis including speech recognition, visual perception, and decision-making.
You might already be familiar with artificial intelligence if you have an Amazon Echo or Google Home device in your home, both of which use artificial intelligence. The voice-controlled home appliances (also known as "assistants") are connected to the internet and can answer questions and respond to your commands. Perhaps you use an assistant to make a voice purchase on Amazon or you might ask it what the weather is like. You might even ask these devices to play music in your home.  Artificial intelligence enables appliances to do all of these things and more.
Artificial intelligence is an important growth area of computer science and will likely account for a significant number of tech-related jobs in the foreseeable future. Jobs utilizing artificial intelligence are in demand today and companies are looking for candidates with a broad set of skills and experience in areas such as algorithms, mathematics, problem-solving, computer science, and engineering.
While the technology is still in its early stages, universities have recognized the tremendous potential of artificial intelligence and the need to educate and prepare students for the workforce. Many universities are adding artificial intelligence classes to their computer science and engineering curriculums. Now that iD Tech Camps and Digital Media Academy have added classes, students can get exposure to AI before they attend college.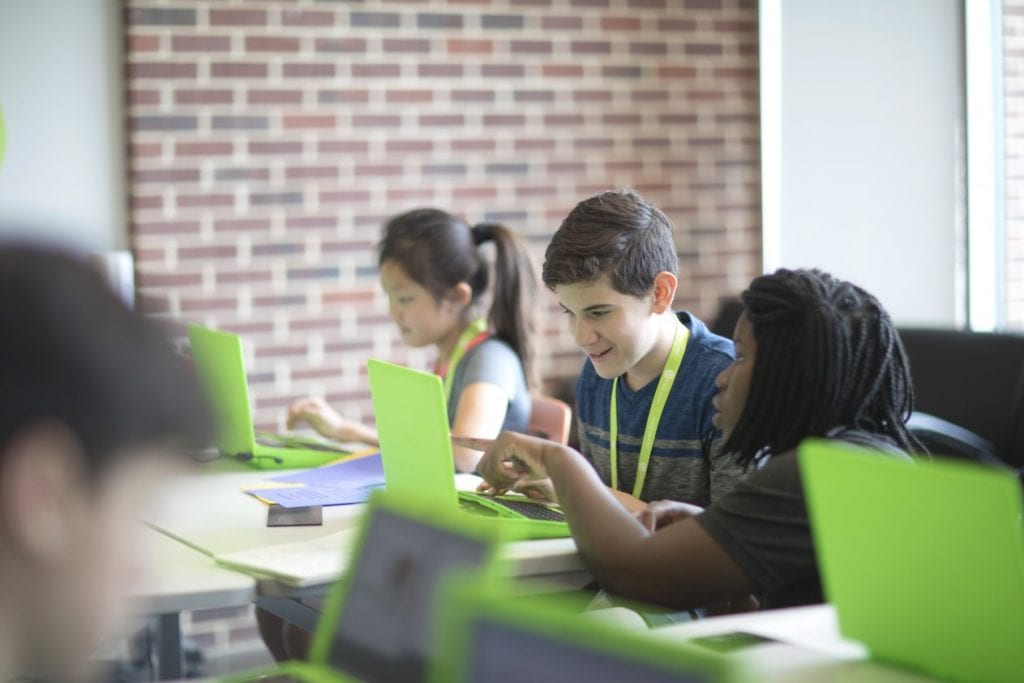 About AI Summer Camps
I had the opportunity to speak with iD Tech and Digital Media Academy and learn why they added artificial intelligence summer camps to their rosters and hear how they went about developing their curriculums.
Both companies focused on a specific aspect of artificial intelligence called machine learning. Machine learning is an application of AI where computer systems access and use data to automatically learn for themselves and improve their performance from experience, without human intervention. In the courses, students will code machine learning algorithms into computers so that they can learn to recognize, categorize, and act based on training data. Students will also be able to create a simple neural network using Google's TensorFlow. A neural network is a framework for handling data to make predictions or classifications.
Aurora Smith, Editorial Lead at iD Tech, shared, "We decided to offer two artificial intelligence courses because it's a point of pride for us to stay on top of cutting-edge and emerging technologies, and, most importantly, to find ways to make these subjects accessible to kids and teens. AI and machine learning are skills companies are desperate for; we recognized that need and designed our courses to fill it." Aurora said that the Curriculum Developers are doing intensive research—including attending and presenting at industry-leading conferences—to ensure the content of the courses is in-depth, applicable for their students' futures, full of unique and engaging projects, and best of all, fun.
Shane White, Lead Instructional Designer, Programming and Game Design at Digital Media Academy, explained that "DMA decided to offer an AI course after interest from students, parents, and partnered organizations began to ask if they had any courses that taught coding related to AI. In addition, our research shows that tools are becoming available that would make a course suitable for both younger students and teens." Shane said that the curriculum was developed in-house by their instructional designers, with support from tools and friends from organizations like Google. He added, "We want our students to have the capability to create projects that are fun, interesting, or useful, while also providing an authentic learning experience that connects them to a larger community of learners. We believe that Machine Learning will allow students to take their ideas to the next level and shape how we communicate and interact with computers and technology."
Find an AI Class
iD Tech and Digital Media Academy offer computer summer camps on college campuses across the country. Visit their websites to see if there is an artificial intelligence class near you. Keep in mind, these classes are geared towards older middle school and high school students. Here is a brief overview of the classes; the following links will take you directly to the course descriptions.
iD Tech Courses:
Students can expect to learn how to create a neural network, train models to learn without being directly coded to do so, dive into TensorFlow, and get experience coding with languages like Python. Students should consider taking these courses not only because the skills they provide are highly desired, but also because they're applicable to a wide variety of hobbies and careers, from coding to robotics to medicine and more.
Digital Media Academy Course:
Students can expect to learn the basics of artificial intelligence and machine learning capabilities including how to use machine learning to find patterns or solve problems, train a computer to play a game, and how to find useful information in images using computer vision.
Students might make things like chatbots, a video game playing program, a classification engine, or a predictor. Here's an example where someone taught a computer to play Flappy Bird, which is a project within the scope of what a student might accomplish in the course:
Final thoughts
I am excited to see artificial intelligence being introduced as standalone courses at computer summer camps, giving students an opportunity to learn about an exciting and emerging field in computer science before they attend college. I expect that over time we will see more STEM organizations add artificial intelligence courses to their roster of camps and after-school programs.