Not everyone can be an entrepreneur, but everyone can be entrepreneurial!
Before I worked in tech startups, I thought of entrepreneurship as synonymous with creative, driven people who started new companies based on groundbreaking ideas that changed the competitive landscape. Well, I still think those terms apply to those kinds of inventive people. But working in tech startups showed me that an entrepreneurial mindset can benefit everyone, not just the founders.
Entrepreneurship isn't just about starting businesses: it's about using innovative thinking in our work. It's the ability to identify issues, recognize unmet needs, bring imaginative thinking and resourcefulness to problem-solving, and use a strategic approach to develop new ideas for products and services, as well as processes and procedures—in any setting or organization.
We often think of entrepreneurs as being born, not made. But an entrepreneurial mindset and skills can be learned! For a young person, learning how to develop this mindset is excellent preparation for the working world, no matter what field they're headed for. In our increasingly technology-based world, 21st-century careers will demand workers to be skilled problem-solvers and creative thinkers and be comfortable working with technology, even if they are not in a technological field.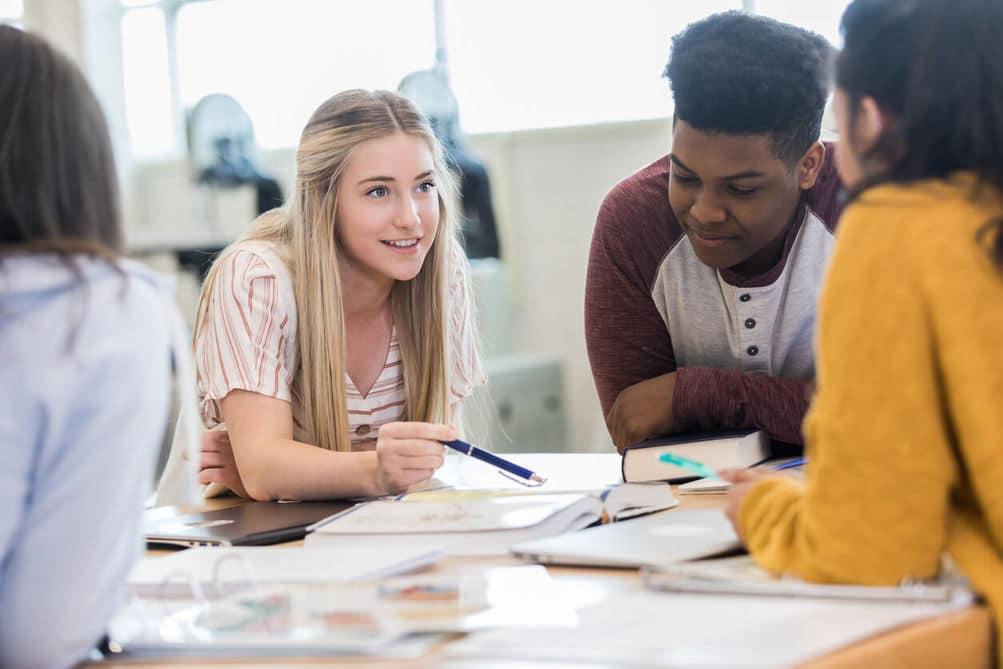 Exploring entrepreneurship before finishing college
There's no need for students to wait to start—or finish— college before dipping their toes in the waters of entrepreneurial thinking. Teens have lots of options for exploring entrepreneurship today, especially through the lenses of STEM, business, and startups. I am also seeing growth and interest in social entrepreneurship for students who want to use technology as a catalyst for change and a force for good.
Over the years, I've spoken to and mentored teen entrepreneurs, consistently hearing what a rewarding experience it's been and how much they learned along the way. Acquiring new skills, gaining self-confidence, and often discovering new interests are critical benefits students mention. Niki Murthy, Kuhu Badgi, and Akshika Chawade, the co-founders of the social media and education site PeriodTalk, cite three major skills their start-up team of founders gained from participating in entrepreneurship programs like TYE Boston and the QØ Cup.
"The sole most important skill that has allowed us to get to where we are is networking. … Along the same lines, these [entrepreneurship] programs gave us experience collaborating with diverse groups of new people, which has allowed us to feel comfortable reaching out to new people on a daily basis and effective at managing teams in our company."

PeriodTalk Founders
Finally, they say, they learned the importance of solid preparation—for pitches, difficult questions, competitions, meetings with mentors and other resources—which brought them personal growth as well as success in their venture.
Ways to explore entrepreneurship
Teens can explore entrepreneurship across a wide range of settings, from school-based classes and clubs to out-of-school programs and competitions. There are academically rigorous programs that introduce high school students to the principles of creating and launching a business. Some programs focus heavily on technology, while others focus on making a positive social impact. Many are project-focused, so students have something to show for their work at the end.
Here are some ideas for learning about and experiencing entrepreneurship.
School Classes
Some schools offer entrepreneurship education through classroom-based courses and programs like Junior Achievement, DECA, and Youth Entrepreneurs. Review the course selection at your teen's school—it may offer an entrepreneurial class.
If your school doesn't offer entrepreneurial classes, students still have other extracurricular options. There are after-school programs, clubs, out-of-school programs, and even competitions. Take a look at the formats described below to find the right one for your teen.
School Clubs
Some schools have entrepreneur clubs, a good way to get a taste of what entrepreneurship is like. Check and see if your school has a club. If not, perhaps your child would be interested in starting one, a great entrepreneurial exercise of its own!
Non-School Programs
In these programs, students typically take an idea and figure out how to turn it into a viable business. While learning specific business skills, students get firsthand experience working across multiple disciplines, like technology, operations, marketing, and finance, to solve problems and find innovative solutions. They learn how to cope with failures and disappointments and use those experiences to gain insight and value. They experience the unstructured, risk-oriented environment of the startup business, taking initiative and making decisions (sometimes without all the information and data they would like). These programs generally require significant time commitments and a dedicated effort by participants, including the creation of specific deliverables.
Check out BostonTechMom's rundown of specific entrepreneurial programs. You're sure to find one with the right focus and flavor for your teen, whatever their interests. Each program is unique and some require an application, so visit their websites to learn more.
Competitions
Students interested in getting real-world experience can participate in student competitions like Quarter Zero Cup, Changemaker Challenge, Diamond Challenge, and Technovation Girls, to name a few. Not only do they get practice pitching their business and see others do the same, but it's also an opportunity to network and make connections. Some competitions include mentorship, as well as funding and monetary rewards.
Podcasts
I am a big fan of podcasts and think you can learn a lot from other entrepreneurs and their stories. My favorite entrepreneurial podcast is How I Built This, hosted by Guy Raz of NPR. Each week, Guy interviews founders of a well-known company and goes in-depth to learn about their journey launching a business—including the highs and the lows that are typical of a startup. These stories offer both information and inspiration and could be a great way to introduce entrepreneurship to your child. I also like the Prof G Show podcast featuring author, professor, and entrepreneur Scott Galloway. Each week you get smart insights into what's driving the economy, business, and innovation, as well as Scott's career advice for young adults.
Students anticipating 21st-century careers need to be prepared for a dynamic work environment where the skills and mindset of an entrepreneur will benefit them, whatever their workplace. Developing their creativity, problem-solving, planning, collaboration, curiosity, and resilience muscles will serve students throughout college and well beyond, in careers of all kinds.