Year-Round STEM Planning Services
Do you have a curious kindergartner, a 10-year-old coder, or a teen building skills and pursuing STEM interests with an eye to college?
Do you want your child to explore STEM subjects outside of school, but are not sure where to start?
Are you overwhelmed at the prospect of researching the rich breadth of high-quality year-round STEM programs and events in the Boston area and throughout Massachusetts?
Finding the right out-of-school STEM programs to supplement your child's in-school education, build their skills, and kindle their passion for the sciences is a big undertaking.
BostonTechMom's consultation services can help!
Consultation Services
I've spent 4 years researching and reviewing school-year and summer STEM programs for elementary, middle school, and high school-aged children. The BostonTechMom blog and our other parent-friendly resources are a great place to start if you have time to do the search yourself. But if you'd like to jump-start the process of finding the right programs for your child, our affordable consulting service for year-round STEM programs may be what you're looking for.
I search my database of hundreds of programs throughout Massachusetts to find the ones that meet your criteria for your child's age, interests, and learning style, as well as your family's particular needs and budget.
You'll get lots of STEM-focused programs – including coding, robotics, engineering, math, science and STEAM (STEM with Art) – in a range of formats, from one-day events to classes, workshops, and clubs, all offered throughout the school year and many during the summer in a variety of settings.
I'll offer my guidance as a researcher and a parent so you can focus your investigations on a carefully curated list of options. You'll get:
Free initial review and evaluation (based on a questionnaire you fill out)
Research, vetting, and selection of STEM programs based on your criteria
A written report (via email) that discusses your child's unique needs, presents a list of 4-5 options, and thoroughly details their features (including schedule and pricing), as well as the level of fit for your child. View a sample report.
Additional consulting time after delivery of the customized plan, available upon request for an additional fee
How It Works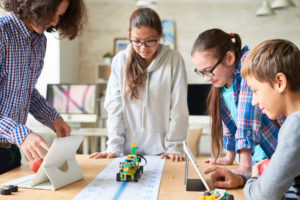 The first step is to complete a free, no-obligation STEM questionnaire.
Based on the information you provide, I will let you know if there are opportunities that meet your criteria and if I believe I can be helpful in researching and providing ideas and suggestions. Once I receive your completed questionnaire, I will aim to email you a response in one to two week's time.
If we move forward with the STEM plan, you can expect to receive your customized list of recommended programs in three to four weeks.
Consultation Fees
The initial assessment of your questionnaire is free.
The service fee for your customized STEM plan is $300. This fee must be paid before the research begins and can be paid via PayPal. Once research has begun, the service fee is non-refundable.
Please note: BostonTechMom does not receive program referral compensation from any STEM organizations. Our suggestions are based solely on our research, knowledge of the programs, and your stated preferences for your child.
If you have a specific need and a comprehensive plan is not necessary, I can offer guidance through an hourly consultation service fee.
Ready to start? Fill out your STEM questionnaire now!
Or contact me directly and let's talk about how I can help.