Over the past few years, I have watched the number and variety of coding classes for kids (outside of school) grow quite a bit in Massachusetts. Kids can take classes in camps during the summer, participate in after school programs during the school year, and even attend one-day workshops hosted at libraries and universities. There are coding classes for students with no experience all the way up to classes for those who have been coding for years. Teachers know they need to make the material interesting and engaging for kids, and thus, you will find many different approaches to teaching coding. Kids might learn to code with Minecraft, create games with Scratch, or learn a particular language like Python or Java.
Would you like your child to learn to code? Many parents want their kids to learn to code but for various reasons, the opportunity to take a class is not always possible. Perhaps your school does not offer coding classes or you can't fit a class into your family's schedule. In some cases, there might not even be a coding class available near your home. It can be very frustrating.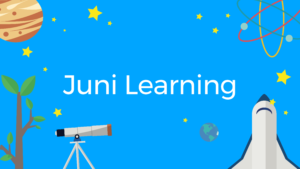 Well, I have some good news for you. Your kids can now learn to code in the comfort of your home, based on your schedule. Classes are provided by Juni Learning, a new company offering live, online coding classes for students ages 8-18. Each student is paired with a teacher for one-on-one video instruction. Students learn how to build games, apps and websites in a personalized learning environment. Scheduling is very flexible and sessions are available weekdays from 3pm to 10pm EST and weekends from 1pm to 8pm EST.
How it Works
Students work one-on-one with their instructors at their own pace and meet their teachers one or two times a week for 50 minutes via video chat. In addition, they work on assignments outside of class for about 1-3 hours per week. By the end of each course, students will have completed master projects like a Space Invaders game, a YouTube clone, Minecraft mod, or a mini Android app.
Curriculum Development and Teaching Style
I spoke with Vivian Shen, co-founder of Juni Learning, and asked her to explain how the curriculum was developed. Vivian said, "We developed the curriculum with kids in mind, and ultimately the progression of topics mirrors our university experience. We start our youngest students with the Game Master track in Scratch, because it's a drag-and-drop language where students can focus on learning the fundamental building blocks of coding without having to worry about typing and syntax. Then, we offer a series of tracks with themes based on students' interests. For example, kids more interested in design and art will want to take Web Superstar, where they design and code their own websites. Each track also focuses on one or two specific programming languages, so that students learn several different languages throughout their education with Juni. Overall, the topics we cover are similar to the progression of a college course, like the introductory classes we took at Stanford (CS106A and CS106B), tailored for kids."
In terms of their approach to teaching, Vivian said, "Our pedagogy is focused on project-based classes. During each class session, the student is introduced to new topics before applying them to multiple mini-projects. The students re-apply these concepts towards Master Projects in each course, which range from fully fledged games like Flappy Bird to newsreader web apps."
Classes are scheduled on-demand or on a recurring basis, and students are assigned a primary teacher who will guide them through the program. All teachers are Stanford University students and graduates with work experience in software engineering as well. Parents can see their children's progress in the Juni app and message with their teachers about any issues.
Choosing a Class
Juni has courses for all ages and experience levels. Beginner courses focus on teaching the fundamentals of computer science, like variables, loops, conditionals, and functions. Once students have mastered these concepts, they can choose to specialize in specific themes and languages for the Master courses. Teachers make a recommendation at the end of each track on where the student should be placed. Visit the Curriculum page for an overview about each course and the cost to enroll. Please contact Juni directly if you have questions on choosing the right class for your child.
Juni currently offers the following 6 courses:
1. Game Superstar (Ages 8-12 or beginner)
In Game Superstar, students use Scratch's drag-and-drop coding system to learn computer science fundamentals: loops, conditionals, variables, operators, listeners, and functions.
This track centers around games: by the end of the course, students have designed and built their own complex games in Scratch.
2. Web Superstar (Ages 8-12 or beginner)
In Web Superstar, students learn HTML, CSS, and Javascript to create their own websites.
This track is geared toward students who enjoy art and design. By the end of this course, students have created their own web portfolios including interactive mini-projects, like a mock e-commerce storefront, social network profile, or online arcade.
3. Data Master: Python (Ages 12+ or intermediate)
This course guides students through learning Python, with an emphasis on data analysis and visualization. Once the student is comfortable with Python fundamentals, we cover how to acquire, clean, analyze, and visualize datasets via various methods.
The master project for this track involves the student using Python to present a data set involving a topic of their choice.
4. App Master: Web Development (Ages 12+ or intermediate)
This course guides students through the building and deploying of websites and web applications. Both front-end (HTML, CSS, Javascript, and JQuery) and backend development (APIs and databases) are covered.
The master project for this course is to develop a web application that fetches news articles from an API and displays a customized news feed to the user.
5. Algorithm Master: Python (Ages 14+ or advanced)
This course guides students through learning Python, with an emphasis on algorithms and data structures. This track covers recursion, searching algorithms, sorting algorithms, big-O notation, and implementing various data structures.
Students who excel in this course have a strong math background (Algebra 2 or higher recommended). If students have already taken Data Master: Python, they may begin in the second half of this course.
6. Game Master: Java (Ages 14+ or advanced)
This course guides students through learning Java, with an emphasis on object-oriented programming. Students build a variety of complex games while learning about objects, classes, scope, and inheritance.
The master project for this course uses Java to build Minecraft mods, changing the appearance and behavior of different items.
Free Trial
Before committing to a coding class, I would recommend taking a free trial class. It's a great opportunity to get to know Juni Learning and their teachers and see how they will work with your child. This should give you a sense if virtual learning is a good fit for your child. You can schedule your free trial directly on their website.
Vivian also said that parents should email or call the company with any questions or concerns. You can reach Vivian directly at vivian@learnwithjuni.com or by phone at (650) 353-7908.
About Juni Learning
The founders, Vivian Shen and Ruby Lee, met while they were students at the Stanford Computer Science department and went on to spend time at Google in software engineering and product management respectively. On a fun side note, Ruby is a native of the Boston area and a graduate of Shrewsbury High School! At Stanford, they bonded over their mutual belief that kids who want to learn subjects traditionally reserved for college like coding, entrepreneurship, and design should be empowered to do so.
Juni Learning was founded in April of 2017, when Vivian and Ruby piloted their coding classes in Scratch and Web development with 10 students in the Bay Area. Since then, they have worked with dozens of kids in California, Shanghai, Hong Kong and London to bring a Silicon Valley education around the world. Since the pilots, they have built a digital learning platform for learners and parents, and added Data Master (Python) and App Master (Web Development) to their curriculum. In the future, they are looking to continue building out their computer science curriculum up through AP Computer Science and introductory university course levels, while also expanding into other areas like design, foreign languages and more.