We all know that starting a new project and searching on Google can be overwhelming. Google gives us access to a tremendous amount of information but it can be hard to comb through the search results and know whether a website is reputable and the information is accurate. I often experience this when I help my kids find information for their school assignments.
If your child is doing a research project, writing a paper, or is curious about health or medical topics, the National Library of Medicine (NLM) is a good place to start.  The NLM, the largest biomedical library in the world, is part of the National Institutes of Health (NIH), the largest biomedical research agency in the world. NLM's mission is to make health and medical resources available to everyone, thereby improving public health. The NLM offers credible, up-to-date, peer-reviewed publications written by experts.
I was very happy to learn about the National Library of Medicine's online resources from Susan Halpin, Education and Outreach Coordinator for NNLM. These educational resources are free and accessible to everyone– students, teachers, and parents– and help foster learning of all kinds, for all ages.

Susan Halpin regularly works with students and teachers in K-12 schools and understands the challenges each group faces in finding reputable, useful, and age-appropriate information. Following is my Q&A with Susan where she discusses why students should use NLM websites for their health and medicine-related projects. Included is a list of top websites and links Susan recommends.
Q: What kind of work do you do in K-12 schools?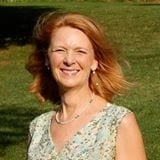 A: I am an Education and Outreach Coordinator for the New England Region of the National Network of Libraries of Medicine. I promote and provide education for the free, digital resources provided by the NLM. NLM's outreach and education are coordinated through partnerships with 8 regional medical libraries located throughout the United States. For example, the University of Massachusetts Medical School Library in Worcester, MA is the regional medical library partner for New England.
The cooperative agreement between the University of Massachusetts and the NLM enables me to provide outreach not only to educators and students, but we also have resources for healthcare providers, public health personnel, researchers, scientists and many others working in the health and medical professions. NLM's outreach program also includes grant funding for projects and programs that use NLM resources to further its mission.
I am a former public high school health and wellness teacher. Most recently, I worked with a local high school to apply for and implement a NLM grant for their after school HOSA – Future Health Professionals Club. HOSA is a nationwide organization that promotes education about health-oriented careers to high school students. The NLM grant enabled HOSA to purchase tablets that the students used to access NLMs educational resources for their research projects and their annual competition. The grant also paid for other educational materials that the club used to educate their school community about making healthy lifestyle choices during a Healthy Living fair at their school. I provided several training sessions to the club about how to use PubMed and MedlinePlus so they could create research projects and educational materials for their peers.
Here is a quote from the thank you note I received from their club advisor after the last training session.
"Can't thank you enough for speaking with my HOSA/AP Bio kids last week.  They thought it was FABULOUS and super helpful.  They wished I had told them about it at the beginning of the year – for AP Biology.  

I plan on having HOSA make a tutorial video on the resources or have the three students come and teach my AP Biology students about the resources at the beginning of the year."
Q: Why should students use NLM websites first before Google?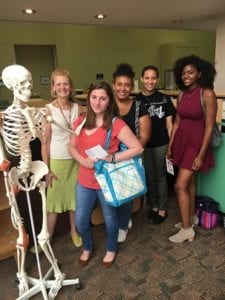 A: The current topics of "Fake News" and "Alternative Facts" have become part of our present-day vocabulary and provide an opportunity to explain why using NLM resources is a productive way to begin learning about a new topic, as well as a smart way start a research project. NLM resources are trusted resources for these reasons: (1) they are written by experts, (2) the information presented is peer-reviewed, (3) NLM sites are updated on a regular basis, and (4) advertising is not allowed on any NLM product.  While Google is a wonderful source of information, you might not always get the best quality results based on the information you need.
NLM's many websites and databases are designed to help you find appropriate, authoritative health information. To do this, NLM provides access to information produced by the National Institutes of Health. Not only does NLM have their own sites and databases, but NLM links to other web sites, produced by the NIH Institutes and other Federal Government organizations. Each of the NLM resources usually provides information about where their information comes from and how often it is updated. For example, the information provided to the user about the MedlinePlus website can be found here: https://medlineplus.gov/criteria.html.
Q: What NLM websites and resources should high school students use for research projects?
A: Susan recommends these 4 websites:
1. MedlinePlus- The MedlinePlus website, a collaborative effort from the U.S. National Library of Medicine and the National Institutes of Health, offers information about 750 health topics, a dictionary, medical encyclopedia, news, and directories to find physicians. MedlinePlus is written in simple language, for a consumer audience. Each page of the website is translated into Spanish and depending on the page, there are an additional 40 languages that the information is translated into.
2. MedlinePlus' Tutorial for Evaluating Health Information- MedlinePlus offers a helpful tutorial about how to evaluate health information you come across online. Many high school and post-secondary classes that use internet resources may find a MedlinePlus tutorial a valuable first step in the process of learning about a specific health or medical topic. The information provided in the tutorial is presented in video and written formats.
3. Trust It or Trash It- MedlinePlus also offers a link to a useful tool called "Trust It or Trash It" that can be used to learn how to evaluate websites and judge the quality of the health information. There is an abbreviated version of the tutorial with much of the same information that could be used as a review tool on MedlinePlus' site.
4. PubMed- The PubMed website, NLM's most well-known product, is a database of indexed citations and abstracts to medical, nursing, dental, veterinary, health care and preclinical sciences journal articles. PubMed is an excellent resource for high school students to locate articles for research about medical topics, especially if they are taking AP classes or planning to pursue post-secondary education in any of the health sciences.
Here are specific links to PubMed students will find helpful:
Through its tutorials, PubMed can teach students how to start a health-related research project at https://learn.nlm.nih.gov/rest/training-packets/T0042010P.html and https://www.ncbi.nlm.nih.gov/pmc/articles/PMC3178846/.
Students can access free full-text biomedical and life sciences journal articles through PubMed Central (PMC).
If students are interested in health news and how to interpret it, PubMed Health is a great place to locate information about "hot topics" of interest to teens, such as obesity and mental health.  When PubMed Health highlights a news article, it also provides the source of the news story, what type of research was conducted, whether the research involved animals or humans, and a summary of the research results.
PubMed Health also offers another useful resource, Behind the Headlines, a service from the National Health Service, that contains a section about how to read health news critically.
Q: Which high school classes should students should use NLM websites for?
A: I would use the information for Biology, Environmental Science, Chemistry, Health, Anatomy and Physiology, Genetics, and Forensics.
Q: What websites can you recommend for younger children?
A: MedlinePlus has a Children's page and a Teens' page. These pages are helpful for students to begin a search on a health and medical topic or begin research for a project.
Conclusion
Part of NLM's outreach program involves training. If you think the resources of the NLM would be of interest to your school or organization, contact Susan Halpin at [email protected] and she can talk about some possibilities.
If you are part of an organization and would like to stay up-to-date with NLM's most current resources, opportunities for grant funding and training opportunities, join the New England network, it's free.
Thank you to Susan for sharing these important educational resources. The websites are not only valuable sources of information for research projects but they can also be great tools to help children explore their personal interests and get them thinking about what they might want to study in college and pursue career-wise. I would encourage you to share these tools with your children, teachers, and other parents.